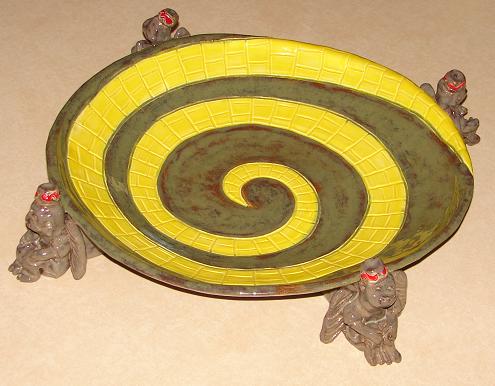 This is the last of the finished pieces I've got done so far. I made this shallow dish by using a mold and pressing a slab of white clay into it. It is about 14 inches in diameter. The mold was metal; basically, it was just some dish that Kathy had in the studio. You can use almost anything for a clay mold, really; she has wood salad bowls, plastic dishes, etc. The material the "mold" is made of determines how you use the mold. I found the shallow, metal dish was difficult for me as I had a lot of trouble extracting the clay, which was leather-dry, from the dish and having it remain intact and in shape.
I free-formed the winged monkeys. I had originally thought to make them more detailed than I did, but one monkey showed me my limitations. I went simple.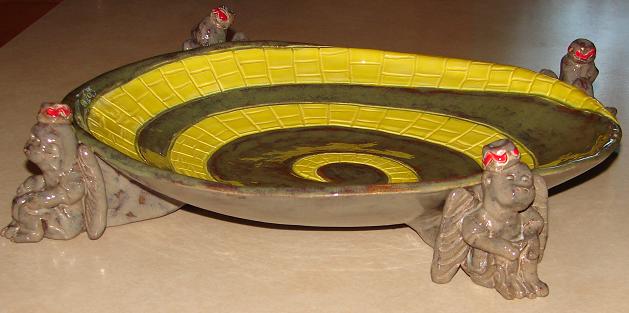 I put about 5 coats of yellow glaze on the brick road, and then used a greenish glaze called riverstone for the interior of the dish next to the road. I decided on a grayish glaze for the monkeys and the outside of the dish, with bright red detail only on the monkeys' hats. Detailed glazing is also not my forte. I'm more of splash and dash kind of painter. Also, during the bisque firing, one of the monkey's tails broke off, and I've glazed the pieces, but have yet to figure out if it can be glued on and still look ok. Also during the glaze firing, the dish warped a little, so it does not set flat and stable. Eh. I'm not in love with it, that's for sure. The flaws don't upset me. Mostly coz I'm not sure what the heck I'm going to do with it.
I don't know what inspired me to do a Wizard of Oz theme dish, especially since I'm not a fan or anything. I like the movie, loved the '
Wicked
' play, but I don't really have a "thing" for Oz.
But I do like how the yellow brick road turned out.