I have really gotten into the shaker balls that Sammy showed me how to make. Something about when you get done, you can hold this piece of pottery in your hands and it'll make noise for you. I like. I made 4 more...
I made this first one for my sister, JoAnne. It's a black cocker spaniel, which I made for her because of her beloved dogs.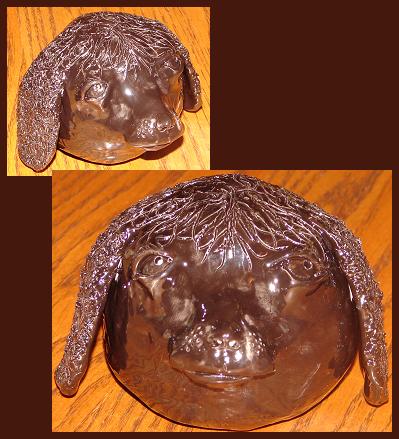 This one is an owl. I spent far too much time on, first of all, deciding how to glaze it, and then on painting the glaze. I used green, brown and yellow underglazes, then opaque white and black, along with bright yellow for his eyes... then clear over all. He turned out a bit darker than I planned, and the black of his eyes didn't turn out as crisp as I expected, but I like him and he rattles nicely.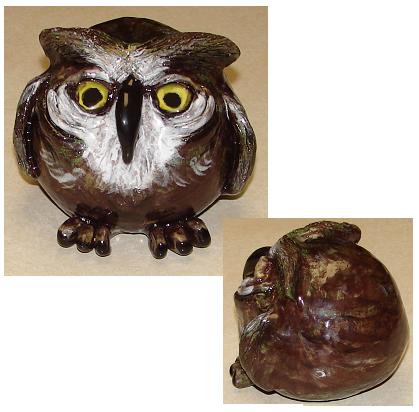 The third one I made is this magic 8 ball, and the answer is always "yes"...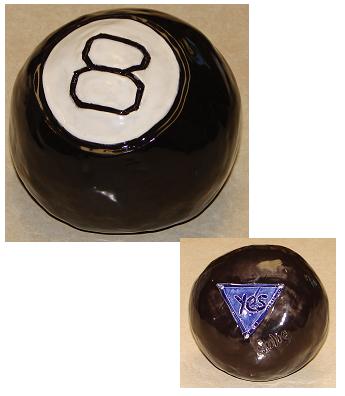 Unfortunately, the 4th one I made blew up in the kiln during the bisque firing. For these shaker balls, since the inside is hollow, you must poke a hole in the bottom to let the air escape, otherwise you're just making a bisque bomb. I did poke a hole into it, but for the little bits of clay I put inside, I believe they were not dry enough and one must have made its way into the hole and plugged it off. Thankfully, my bomb didn't destroy anyone else's project inside the kiln. That would have made me feel worse than I felt about this 4th shaker ball. It was one I made for Joycie, and I spent a great deal of time on it... This was my first exploding-project experience, and I have to say... I don't care for it at all. But that's the risk you take with pottery. It's all an experiment for me at this point. That part I love.
I've since constructed 4 more shaker balls, this time quite large ones... probably about 7 or 8 inches in diameter. As a comparison, the owl is about 4 inches & the magic 8 ball is about 3 inches in diameter, the typical size Sammy & I have made thus far. Yesterday, I just finished re-making Joycie's, and with the larger size, I think it actually looks much better than the 1st one I made. It's drying now. Fingers crossed.