Yesterday afternoon's walk outside with Kevin ended up making my lungs feel wonderfully full of fresh, lovely clean, crisp air, but all the jerky walking on the uneven crunchy snow and muddy trails and semi-melted icy patches was a royal pain in the neck. And y'all know I mean that literally. I had a rough night, and a rough morning today.
Shortly before Kevin had to leave the house for work this afternoon, he and I went down into our basement and did a bit of furniture rearranging. That is, I pointed and he lifted, pushed and pulled. We positioned our treadmill so it faces the television, and for the near future, until better weather & better walking conditions, that's where I'll be spending my strolling time. It kinda works out well, too, because I have a bunch of TV programs recorded onto our DVR that are taking up a ton of space on it and I want to record them onto DVD's, so I'll do that while I walk. I've been told by Dr. Adams, 2 physical therapists and numerous nurses that walking is the key to a good recovery with the neck surgery I had done. Walking is good for pretty much all that ails ya. (Except this darn infection, I think. I'm really getting tired of how yukky the antibiotics make me feel.) Before the surgery, whenever I looked down, it made my left shoulder and arm go painfully twangy numb... so walking outside now, being able to look down, is wonderful. Or will be wonderful as soon as the weather gets nice. Kudos to Dr. Adams... heartfelt kudos.
While Kev and I were downstairs, I remembered something, and I found it while Kev was moving one of the sofas. It's a box containing my "antique tea set."
This is a tea set that I saw at an antique shop and wanted, but couldn't afford it myself. My Mom and Dad bought it and gave it to me for my high school graduation gift. It was a lot of money to us, way back in 1978, though I can't remember the exact amount, and neither can my Mom and Dad. I'm sure it was something like $50 or $60, certainly not over $100. I displayed it for a long time in this set of wood shelves that Kev made for me when we lived in the pole barn, though I've never had a formal, glass fronted china cabinet. I'm not really a china cabinet type of gal. When we moved into our house, I had it out for a short time, but it wasn't well protected, so I finally boxed it up. I've not forgotten it, and from time to time I will get the box down and look at it. It's a lovely Chintz china pattern from Royal Winton Grimwades in England. My research leads me to believe this set was made in the 1930's or so.
Royal Winton
still makes, or rather is once again making, chintz china patterns today. The pattern I have is called "Royalty" and it looks to me like rose pink dianthus chrysanthemums and blue bachelor's buttons, 2 of my favorite garden flowers.
The set I have includes the teapot, sugar, creamer, 4 teacups and saucers, 4 luncheon plates, and then 2 larger plates which were serving plates, I thought, though now I believe one, the square one, is simply a dinner plate, and the other is a rectangular plate. Here are some of the pieces.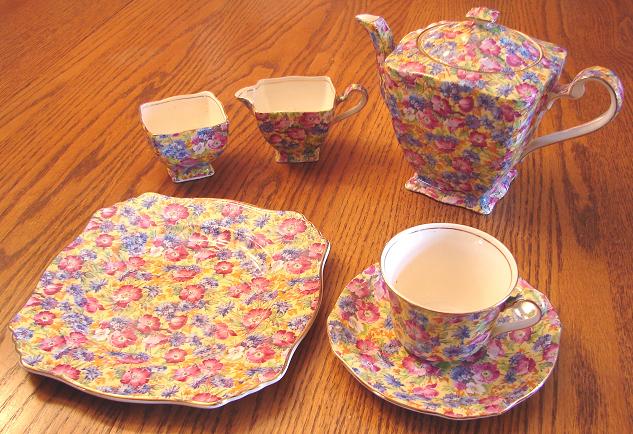 The lip of the teapot is in perfect condition, and for old teapots, that's often one of the first things to get chipped.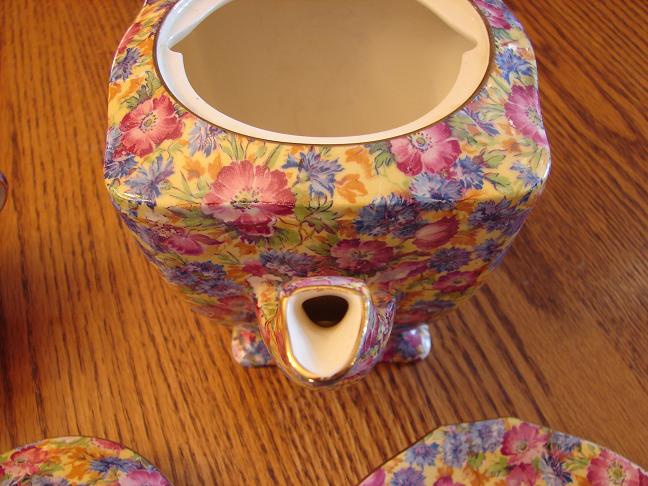 There is a chip on the bottom, unfortunately (there when purchased), and you can see it in this photo... along with the marks. The chintz pattern is "Royalty" but I think the teapot pattern is "Ascot" which is
still available
on the Royal Winton web site.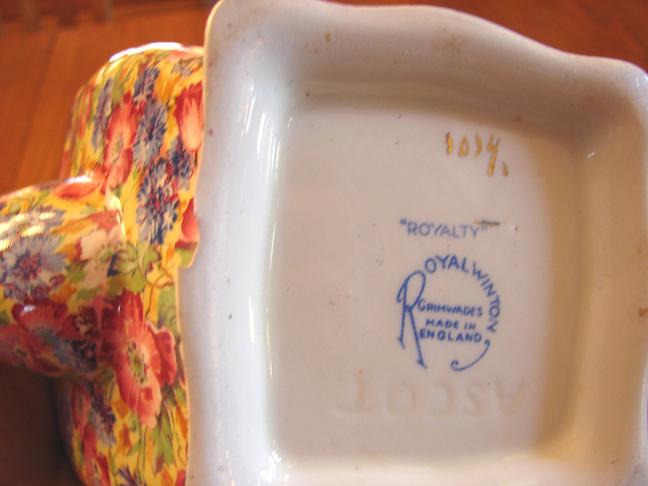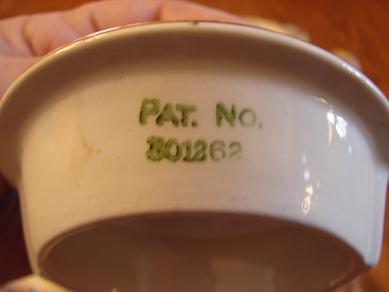 The inside of the teapot lid has a patent number indicated, which I am certain is a Great Britain Design Patent, that's No. 301262 (my first look identified the first digit as a 3, then I thought maybe it's an 8, but now I'm convinced it's a 3... the bottom of the 3 seems to have a definite stop there, like the letter J, it doesn't appear to keep curving up to form an 8). I found
this web site
that had a handy explanation, and also a listing of design patent numbers with relative timeframes... so if this is GB Design Patent No. 301262, then it was registered in the year 1897. Royal Winton Grimwades was apparently the first to introduce and perfect the chintz pattern on china, and they did a lot of exporting to the US around the 1930's... which is why I believe these pieces are from the 30's. Maybe the 40's.
These photos below show some more of the bottom marks, and also the crazing that is on pretty much each piece.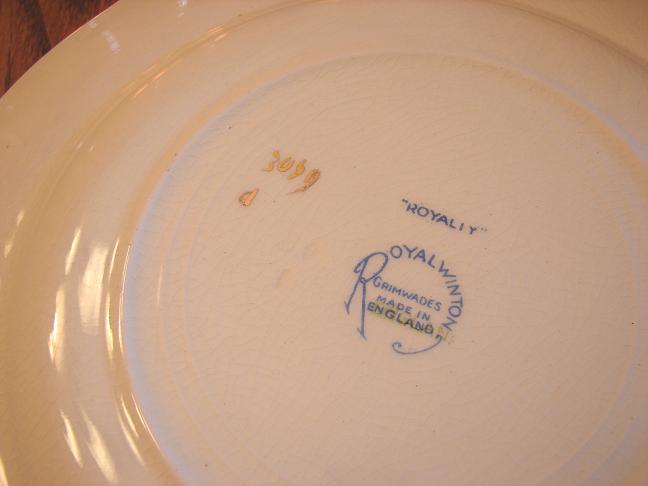 I don't really know that much about old china, but I think crazing is acceptable because it's expected due to the age. (Good ol' "Antiques Roadshow" for that bit of info!)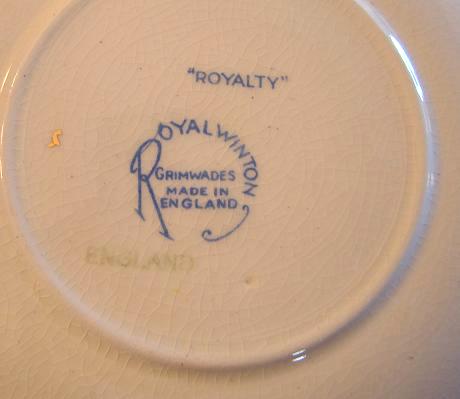 Clearly, this tea set was not used much, though it is definitely not in new, excellent condition (I don't think... like I said, I don't know much about this). But it's so pretty, and when it's all set out together, it's a lovely grouping. I had all the pieces on the table early this evening when Joycie arrived home. She didn't remember them (though I had them out on display on a shelf when she was little), and she became very inquisitive about the set. Then she noticed my computer had a web site up, an eBay store, I think, and she practically snapped at me, "Are you going to sell this?" Whoa, Nelly. I explained I was just doing some research because I was curious about it. The last time I had tried to research this tea set, I had to do it at the library... back before the days of the Internet. So I happily showed her a little bit of what I found out. She asked if I was going to keep it out, and I explained that I didn't want to, because I don't want any of it broken. It has significant emotional value to me, and now I also know, it's worth quite a bit of money, also... so back in the box it goes.
Where it will remain until Joycie has a home with a china cabinet for it, because she fell instantly in love with it tonight, like I did when I saw it in that antique store almost 30 years ago... and so I have promised it to her.