Good-bye to the Rodeo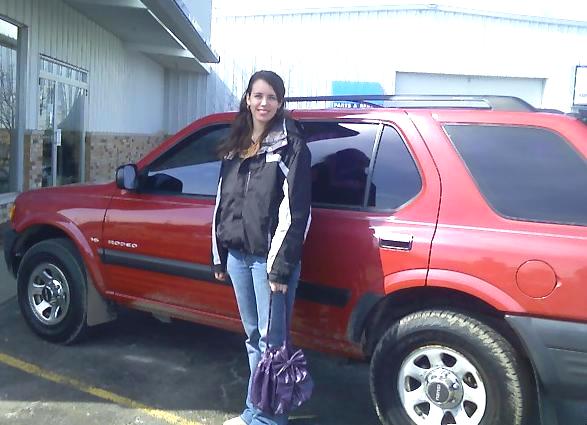 One of the decisions we made during our discussion about Joycie moving back home (as soon as her apartment lease is up) was to sell the adorable, yet major gas-guzzling Isuzu Rodeo for a more gas-conscious car. Since Mike knows tons about vehicles, he and Joycie jumped right on it, and they began looking. We wanted a nice used car with hopefully less than 80,000 miles on it, something not too small so I would feel better about all her M-20 and highway driving. Mike's dad, Mickey, told us about a good used car at
Roger McIntosh Chevrolet
way over in Linwood... from our house, that's about an hour drive. As I'm an the sole owner of the Rodeo (only my name is on the title), I had to go to the dealership also. (Which is ok as far as my "home-bound" requirement goes... because I talked with the nurse about having to go to the Secretary of State's office to get my new driver's license that's due this year, and she said if I have to go out to sign legal documents or stuff like that, it's ok.) Anyway, Mickey was right, they had a beautiful 2005 Impala in great condition. One owner, a single mom, who put a lot of highway miles on it taking her son to his moto-cross (?) meets. It has about 70,000 miles on it. It also has a hitch, because she had a small trailer for the bike. The Impala is a V-6, and Mike said it could easily handle a trailer. The woman took great care of the car, and it shows. The interior is really clean and looks almost new... in fact, the back seat looks brand new, coz I don't think they ever used it. The dealership put new tires and brakes on it, and they detailed it, also.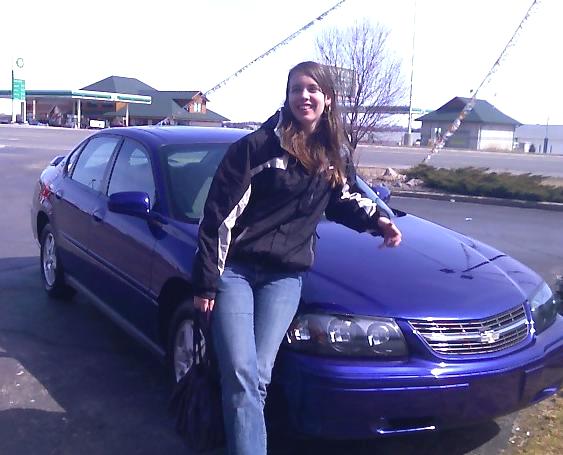 It's beautiful! It's that "Laser Blue Metallic" color that changes from dark blue to purple, depending on the light. It's bright. At the dealership, Kev was talking about our vehicles now that we own, and he determined that Joycie should drive my 2002 LeSabre while I should get the nicer, newer 2005 Impala. Joycie has never done well hiding her emotions, and you should've seen the look on her face! Though it does seem strange that my 19-year-old daughter is driving a much nicer, more valuable car than what I drive, I have no desire to give up my LeSabre. Or to drive a brilliantly colored car that screams, "look at me! look at me!" Joycie was super relieved and hugged me Big Time.
As I signed all the many, many documents for transferring titles and plates, my Vicodin started to wear off. We still made time to stop at "Judy's Famous Pies" which was just down the road. We did this on Mike's suggestion, and if he hadn't went on and on about how wonderful Judy's pies were, we wouldn't have stopped... from the outside, it doesn't look much like a place that would have food I'd want to eat. But the inside was very nice and smelled heavenly. And oh! the pies! I have no words to do the pies justice, and I didn't have my camera. If you are ever near Linwood, go there; 11 South Huron Road. Don't go to Rosie's Pies & Bakery, which is further down Huron Road, go to Judy's. That's Mike's advice. (Apparently Rosie and Judy are sisters and used to work together, but had some falling out, so Rosie opened up her own pie shop.) We went home with one of Judy's coconut cream pies, and it had to be 7 or 8 inches high in the middle... I'm not kidding. It was The Best coconut cream pie I have ever had in my life. I am so very, very glad that Judy's Famous Pies is an hour's drive from my house. We will be going back there, just not real soon. Seriously, if you like pie at all, even only slightly, go to Judy's... you will LOVE her pies.
Our Family's Centenarian, Gramma T.
This past February 21st, Kevin's grandmother (his dad's mother), who everyone calls Gramma T., or Great-Gramma T., had her 100th birthday.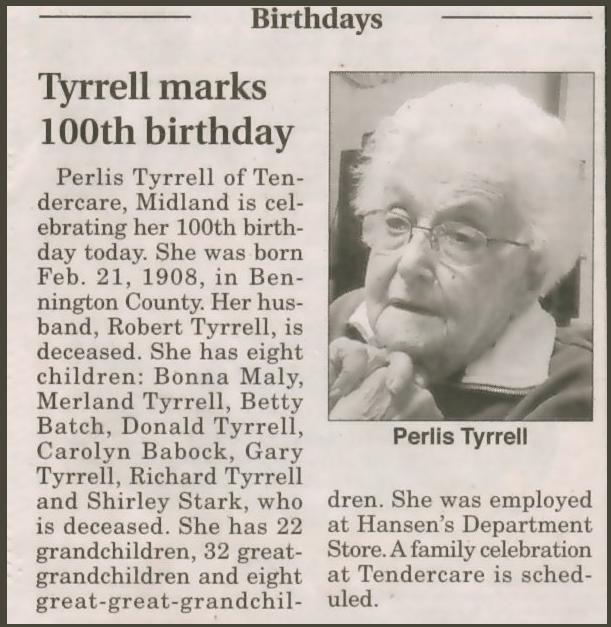 Gramma T. has been in a nursing home for so many years now that I can't remember how long it's been... she's not healthy and her mind is very rarely in the present, and I don't think she knows who she is most of the time... but she made it to 100 years of age. I remember once talking with her about how she wanted a party if she made it that long. Sharron, my mother-in-law, told me she thought Gramma T. knew what was happening, that she knew (at least for a moment) that she'd turned 100.
The 4 of us all missed the party... I was at Covenant hospital having my 2nd "emergency" surgery that evening, Kev was with me, and Joycie was at home with Sammy. I was sorry to have missed that party. I'm not sure, but I think Kev was a little relieved not to go (not that he would want me to have surgery as an excuse). Kev prefers to remember Gramma T. the way she was, and not as this tiny, 80-pound little mound of bones and flesh in a wheelchair who can do nothing for herself and would not know him at all. The last time he saw her, she kept calling him by her dead brother's name, and it was disturbing to Kevin. I understand. Gramma T.'s children all visit her and take care of her, and some of the grandchildren, too. But Kevin won't. This is how he thinks of her... this is a photo I took of Gramma T. and Joycie when Joycie was about 5 years old, so close to 15 years ago.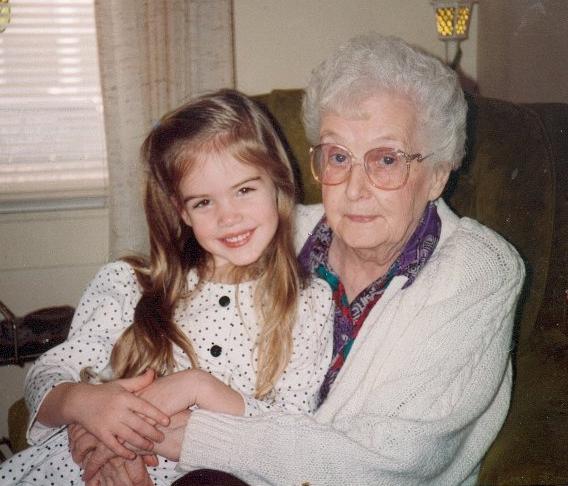 That photo has been on our fridge ever since I took it, before the age of digital cameras. I took it down this morning to scan it in for this post, and then I put it back where it was. And that's where it'll stay.
Return to Snow
Kathy and Michelle (my sister and niece, aka Chelle-Belle) spent Chelle's college spring break week together at a condo on Amelia Island in Florida, near the Georgia border. Chelle is blogging about it, so check out her link below. They had a wonderful time together. It makes me want to go on a trip with just Joycie and I... before time and the changes it brings makes it unlikely we'll be able to do a trip like that together, just the 2 of us. I got to see their photos yesterday, and they are beautiful. The sand, sky and ocean... nice! I also got to see the shells they collected, and Kathy let me choose one. I liked the ones that have been broken and so it is just the inside part, smoothed by the sand and water... as soon as I got home with it, I stuck it into my cacti dish...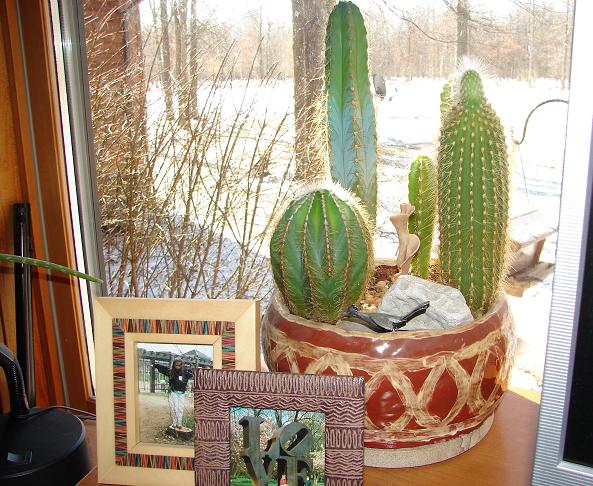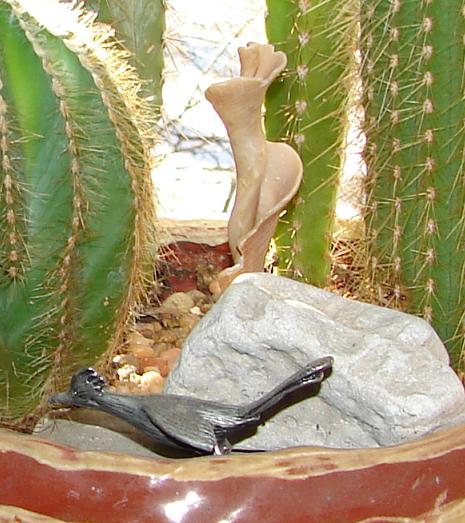 I like how the shell and the cacti are mismatched, but beautiful together. Right this moment, I'm looking at the dish and the window behind it is all white because it's snowing heavily.
Proud of Our Michael
I had
previously mentioned
that my nephew,
Michael
, won a Centralis Gold scholarship.
Our high school actually had 2 seniors that won a Gold, which is outstanding. We're not that big of a high school, and so to have 2 seniors win... well, kudos to The Creek! They put an announcement on the school web site, though I have removed reference to the other winner because I don't know how that family would feel about being on my blog...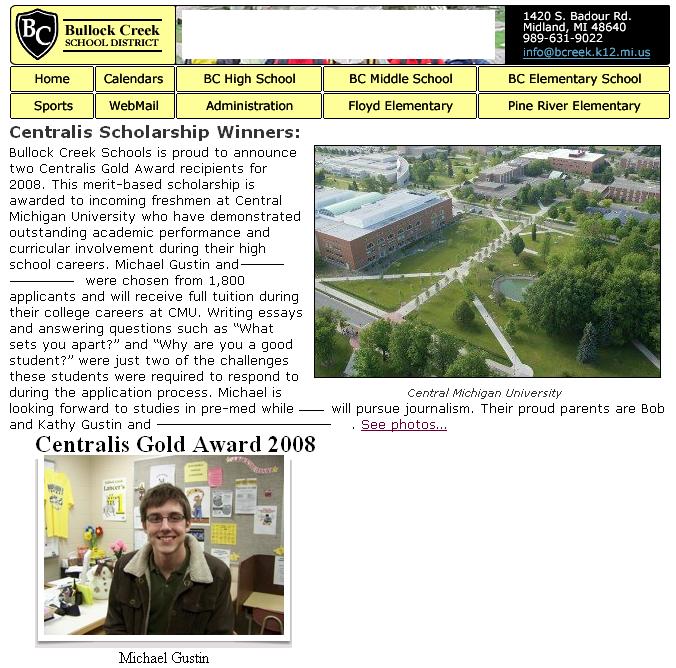 We are all so very proud of Michael. I know he worked very hard to earn that scholarship, and I decided I wanted to get him something to commemorate it. This is the thing I've been trying to find, and then win, on eBay for a while now. I gave him a Waterman fountain pen...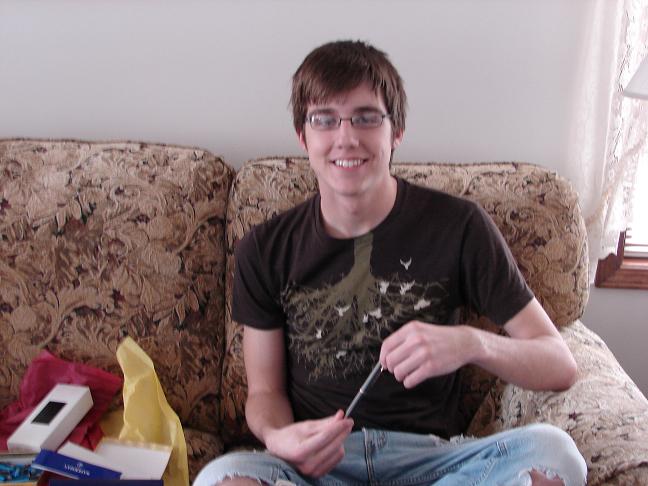 He was happy with it. It's not exactly like my Waterman fountain pen, but it's close.
I told Michael that he has some great things to say, and now he can write them with grandeur. I feel like there is something a bit special about using a nice quality fountain pen; it's makes even a mundane grocery list seem special. Kathy told me that Michael had a form he had to fill out for CMU about the Centralis scholarship (she thinks it has to do with an announcement about it or something like that), and he used his fountain pen on the form. Cool.
Oh, and also, that thing Michael is sitting on is Kathy & Bob's new, beautiful sofa.