October 4th
Today is my Mom's birthday and also my Mom and Dad's wedding anniversary. I called my Mom and sang to her, and even with such a hoarse rendition, she knew it was me. Coz she's my Mom! I told her my gift to her today was to stay far, far away from her. She was happy with that. I've been sick the past week with a dreadful cold &/or sinus &/or upper respiratory infection(s)... whatever it is, it's awful and sticking around far too long.
I took these photos of my folks this past Saturday at my niece's wedding... this was early, before the wedding started, and it is in the foyer at
Fox Hills
. It was a gorgeous setting for a wedding, and it was a beautiful foyer, and I asked my folks to do an old-fashioned pose for me... don't they look like the most wonderful parents a girl could ever have?... yes, indeed.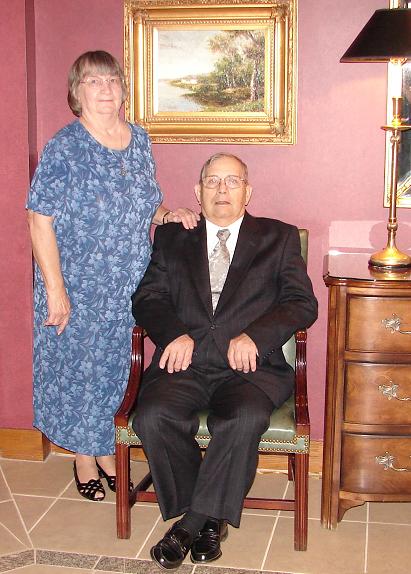 I took this photo later in the evening, after dinner and when the reception was just getting started, which was when my tired parents were heading home, with an almost-2-hour drive ahead of them. They're troopers.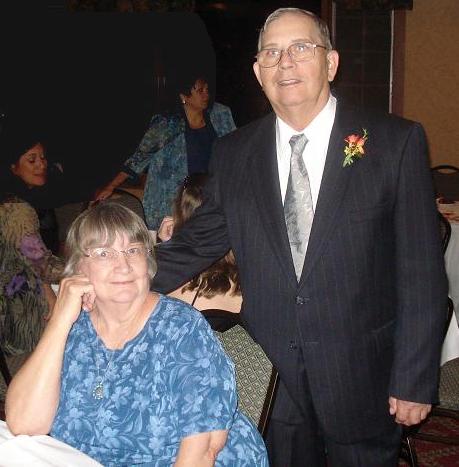 I hope I look as good as they do when I'm their ages, and I hope I'm as strong as they are.
Happy Birthday, Momma! Happy Anniversary, Mom & Dad!
I wish my photos could have been better, but my trusty Sony broke right after taking some of the photos in the foyer the evening of Sara's wedding. Thankfully, Joycie had her little Sony Cyber-shot with her, so I used that for the rest of the evening. Most of my photos didn't turn out well, though, because I am unfamiliar with her camera, and it's very different from mine. *
sniff
*
September 29th - The Wedding...
My niece, Sara, became the wife of handsome Derek this past Saturday. Since their
engagement
was so romantic, it was no surprise that they had a beautiful-like-a-fairy-tale wedding. They were married outside in a white gazebo surrounded by flowers, family and friends. The ceremony was shortly after 6:00 pm on an absolutely beautiful day, with that feeling you get only in early autumn and the light you get only at that time of day. It was perfect.
Before the ceremony began, a young man sat up front near the gazebo and played a violin. It was lovely. We all sat comfortably in white folding chairs on the pristine lawn...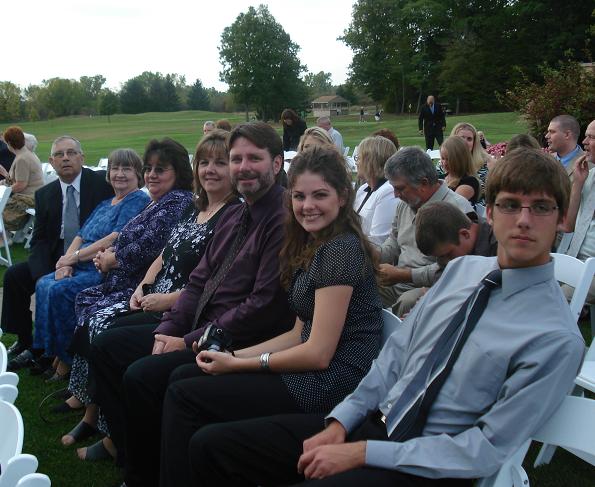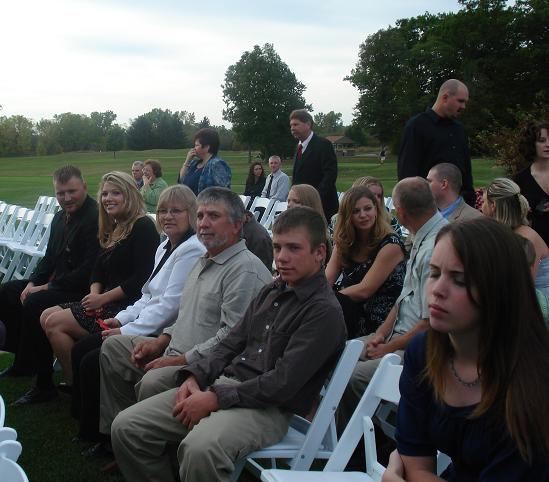 while we enjoyed the music and waited. Rogan, my great-nephew, and Sara's nephew by her only sister, Susan, also entertained us. He was walking around the gazebo, kind of shy-acting, but also proud to be looking so good in his fancy duds. What a cutie. Every once in a while, he would bend down and check out a flower.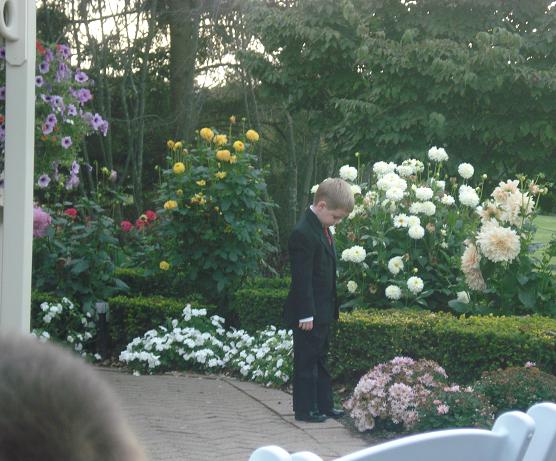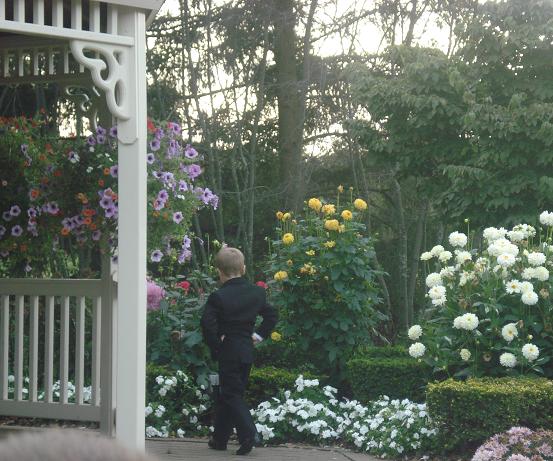 Could that be more adorable?... I think not.
While we waited, some of us could see the entire wedding party getting assembled over beyond a hedge, from where they would come up the walkway once the ceremony began. The hedge included faded hosta blooms galore, which blocked much of my view, but I took this photo of a happy groom, waiting with the reverend and his soon-to-be mother-in-law.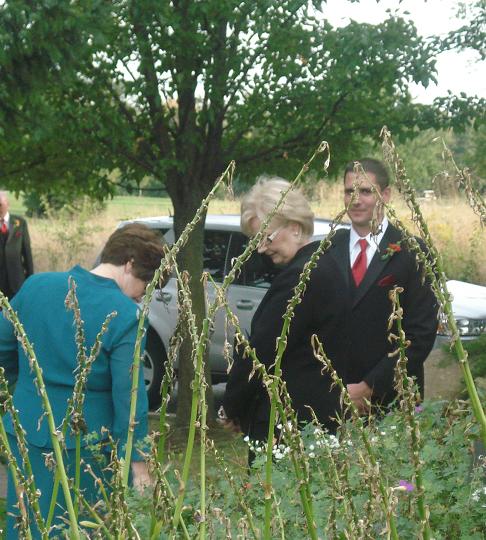 Derek looks very happy, but also slightly nervous. Shortly after I took that photo, he walked both his mom & my sister, Janet up to their seats and then took his place at the gazebo to await his bride. The wedding party followed, in pairs, all looking beautiful. Then the best man and maid of honor, Susan...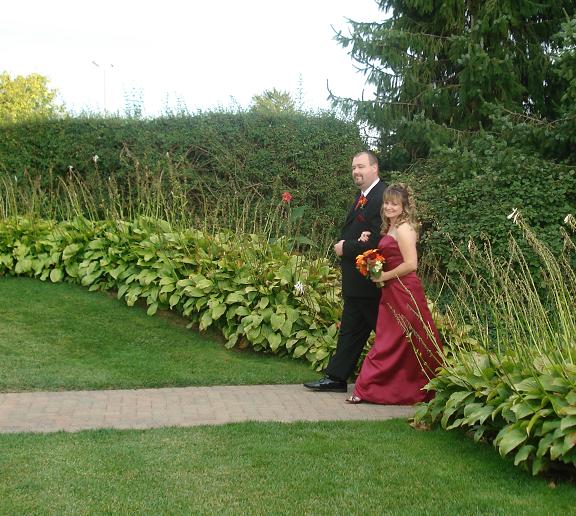 Followed by Rogan, the ring bearer, and an adorable flower girl who is the daughter of one of Sara's friends. Waiting behind them were my brother-in-law, Bob, and Sara... also looking very happy...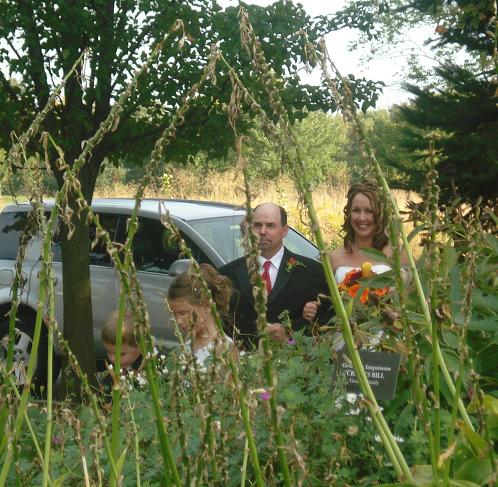 And very, very beautiful...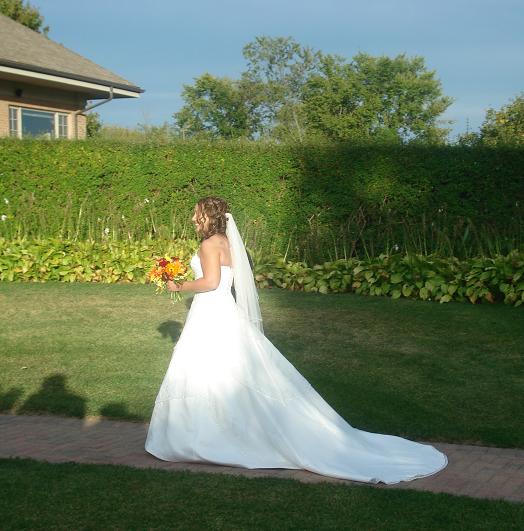 The happiness on Sara's face as she walked with her dad and the happiness on Derek's face as he watched her walk toward him is the stuff that makes one cry at weddings. I'm getting weepy as I type this, remembering that ceremony. It was perfect. Both Derek and Sara seemed relaxed and happy, gone were any signs of nervousness. The reverend did a superb job, and her words to the couple and us, the family and friends witnessing their marriage vows, were filled with common sense and hope and affirmation. She had Sara and Derek hold hands and say promises to each other, then they put on the rings and said their vows. At one point, while the reverend was talking, Derek was looking at Sara and smiling, and he mouthed to her, "You're beautiful."
Then the reverend announced them as husband and wife, and they kissed...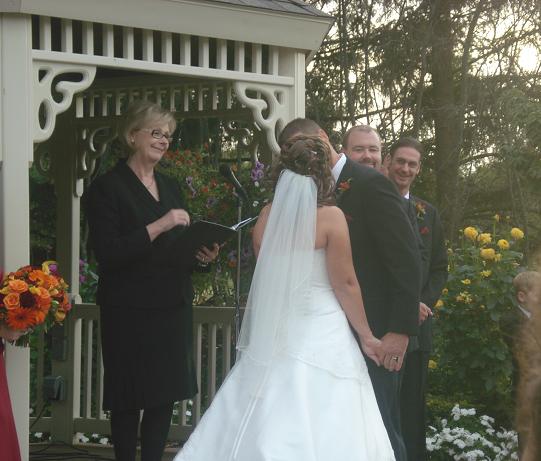 During the ceremony, the skies began to cloud up on the horizon, not darkly, just cloudy. Then, during their vows, a space opened in the clouds and sunshine poured through, causing a rainbow. Yes, a rainbow.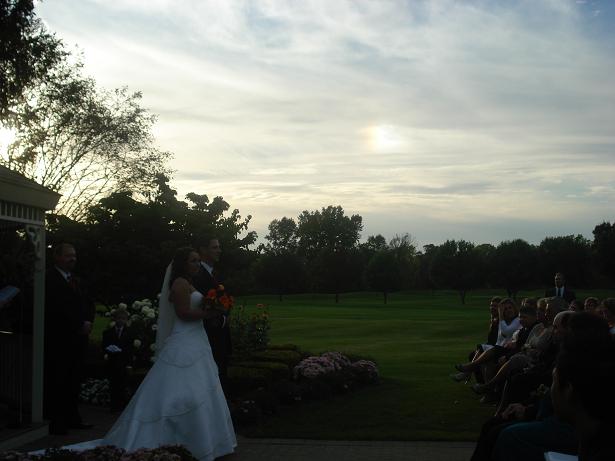 The photo doesn't do the rainbow, nor the newlyweds, justice. It was a remarkably beautiful picture, and I stood there watching Derek and Sara walk away from the gazebo, newly married, and I thought it was a perfect ending to the start of a happy future.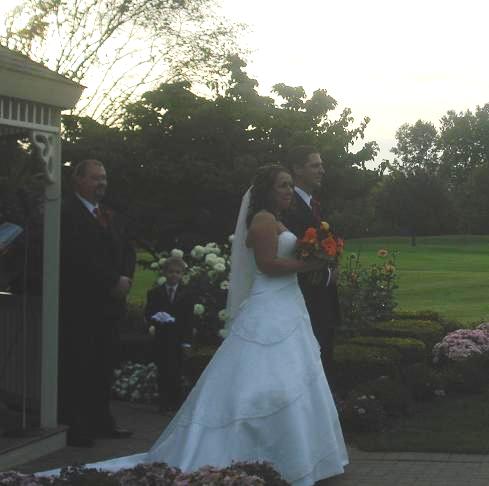 After the ceremony, while photos were being taken, the guests were treated to appetizers and cocktails in the dining hall. Large, round, white linen covered tables surrounded a dance floor in a very large room. A long table for the bridal party was over on one side & was in front of a bank of windows, which showed the setting sun. On the dance floor were tables awaiting the dinner. Everywhere were touches of autumn, and the decorations were beautiful. Each table had a candle centerpiece, that I later found out my sister, Janet, had made. Gorgeous! And on the tables were small tealight holders made from birch tree trunks, each with a note that read, "Thank you for sharing our special day!" tied on with a dark red satin ribbon, one for each guest. Derek and Sara made each of those, from downed birch trees on Janet & Bob's property.
When it was time for the bridal party to arrive in the dining hall, all the lights went dim and the DJ kicked out some loud, rockin' music with a brilliant light show, and then he announced everyone with great showbiz style. By the time he introduced Derek and Sara, everyone was on their feet clapping and cheering like crazy! So cool.
Before dinner was served, Sara and Derek cut their gorgeous wedding cake, then a toast was made by both Susan, and by Derek's best man, a friend of his for most of his life. Susan's toast was sweet and touching; she mentioned not losing her sister, but getting a brother. Sounds cliché as I write it, but trust me, it was so sweet. Susan is six years older than Sara, and they physically barely resemble each other... but they are so close you would think they are twins. The best man's toast was thoughtful and, well, wonderful. He said that with Derek's drive and hard work ethic and Sara's ambitions and caring heart, the sky was the limit for the two of them. We all drank and clapped, the air was alive with happiness. And in that giddy atmosphere, my brother-in-law, Bob, led us all in bowed heads with a heartfelt, completely unrehearsed prayer... grounding us all in loving happiness that the occasion warranted. It was, yes, I'm gonna say it again... perfect.
And speaking of perfect, the buffet was exactly that... hands down, the best wedding food I've ever had. Mixed greens salad, clearly hand washed and torn, with just the right accompaniments, along with fresh pineapple & melons. Lovely. Then, among other things, cheese cannelloni, mashed potatoes, breaded chicken and prime rib with gravy, and lovely rolls. All extremely delicious. By this time, I was feeling strongly my sickness I've had all this week, but I could still enjoy the dinner very, very much... it was that good. All around us, people were talking about how wonderful the dinner was. The wait staff was constantly at one's elbow, clearing plates and things. The chef was out often checking the buffet with his tall white hat. Yes, perfect. All during dinner, the bars (they had 2) were open, and Kev, and my brother, Jim, and my sister-in-law, Sue, my sister, JoAnne, and my sister, Kathy, and my brother-in-law Bob G., all enjoyed a variety of alcohol treats... Absolute vodka, and other top brands represented. There was Kahlua and other liqueurs, all the usual and plus Bud and Labatts on tap. I was happy with the ever-replenished ice water and coffee. The wait staff were all busy, busy, and also very friendly. Very pleasant. Once dinner was cleared, while the buffet tables were being disassembled, we were served our choice of cake... the wedding cake was white with a raspberry (I think) filling between layers with some kind of fluffy frosting... Kev had a piece of that (and woke up the next morning talking about that cake and wanting more!), while I had a piece of the groom's cake, rich chocolate... mmm...
It was one of the most well-organized and well-orchestrated wedding receptions I've ever seen. There were over 200 guests, and yet it felt like a comfortable, cozy dinner party. Everything was beautiful, and everyone was happy. Including my sister, Janet, and brother-in-law, Bob, parents of the bride, sitting here with Mom and Dad...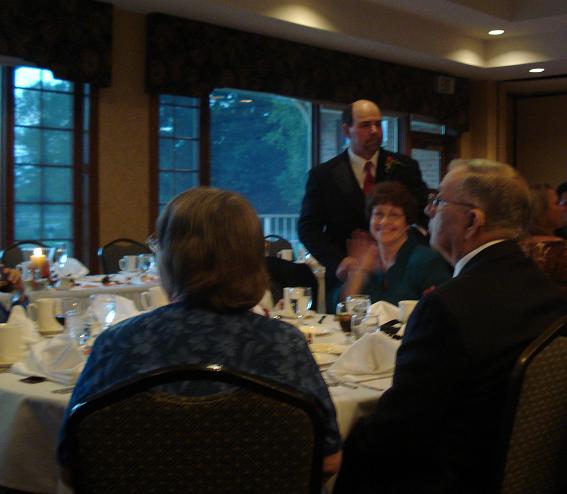 I know the photo is not very good, but the smile on Janet's face makes it a great photo anyway.
During cake, my folks took their leave, and since Joie rode with them, she also had to leave... But one of the wait staff, a young woman, was super sweet and went & got Joie a piece of the wedding cake in a to-go container for her ride home. Not too long after that, Kev and I & the kiddos also took our leave, sadly missing the bridal dance and the other festivities... I sincerely wish I had felt better so that we could stay longer... I could tell, though, that I was feeling worse by the minute and something bad was taking over my sinus cavities. On Kathy's suggestion, we stopped in town just before arriving home, at a Wal-Greens and Kev went in & got Alka-Seltzer Plus Cold for night, as well as Mucinex nasal spray for me while I stayed in the car and groaned. (Thank you, Kathy!) Plop, plop, fizz, fizz ain't just a slogan... oh, the relief! Remarkable relief. 5 minutes after drinking that Alka-Seltzer and snuffing up that awful tasting nasal spray, I was like, "It's a miracle!" A short-lived one, but thank goodness Kev bought a hearty supply coz I sure have gone through that stuff the past five days.
Last, but not least, I also took this photo of Joycie, Sammy, Michelle and Michael....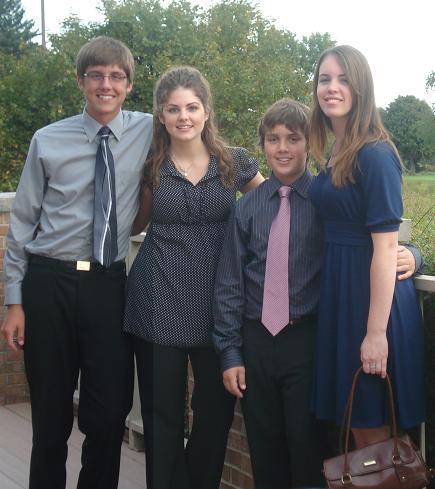 looking good in their dress-up duds... And a photo of my wonderful husband, Kev, whom I married over 24 years ago, and who I thought of while Derek and Sara said their vows to each other...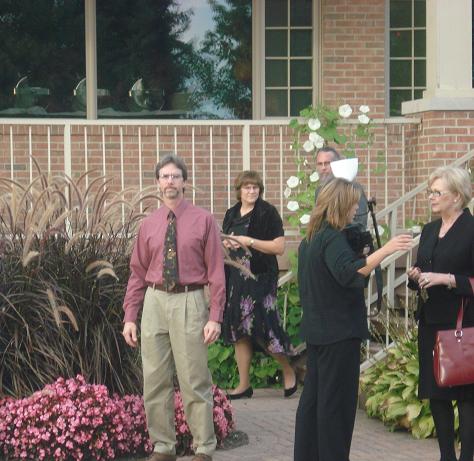 I love you, KT.
Oh, also, before the wedding, walking through the foyer on the way to through the dining hall, out onto the porch/deck, down the stairs and out to the gazebo, there was a table on which sat a very large ceramic platter with Sara and Derek's name and the date of the wedding in the center... and there was a special pen there, and each guest was invited to sign the platter. It was really neat. They also had, instead of a guest book, a small book that everyone wrote messages to the couple on the pages. I wrote our message on the way out when we left, and nearly every page of the book was completed! That will be a treasure to read through as the years pass. Also, after the platter and the book were a series of small wire trees, holding colored paper leaves by ribbons that had each party's name and table number for dinner seating. Very pretty. Also sitting there near the trees was a printed invitation for everyone to attend a Sunday brunch the next day at Sara and Derek's home... I so badly wanted to go to that, and so did the kids. I kind of put a damper on this weekend for them with my creeping crud sickness thing. (And I felt bad at the wedding, trying to keep as far away from everyone as I could... I wanted to give my niece and my new nephew-in-law a big kiss, but I also did not want to give them this cold... ugh.) I talked to Janet while she and Bob were driving home Sunday afternoon, and she said the brunch was really nice, and that Sara and Derek opened their wedding gifts. I chose something a little
different
as our wedding present to them, but I was pretty confident they would like it... more confident than Joycie and Kev, though Sammy thought I chose well. Janet said both Sara and Derek loved it, and it goes well with them, because they really get into Halloween Big Time. Yay!
What a wonderful wedding weekend for Sara and Derek. They are honeymooning in February, which is a perfect time to go to a tropical beach locale, which is what I hear they are planning. Nice. After that, I hope it's time to make me a great-aunt again! After the honeymoon, though... margaritas on the beach first.