I brought home 4 finished pieces from Space Studios lately. One is another box pot...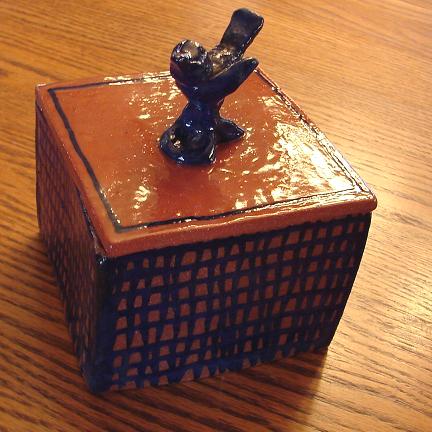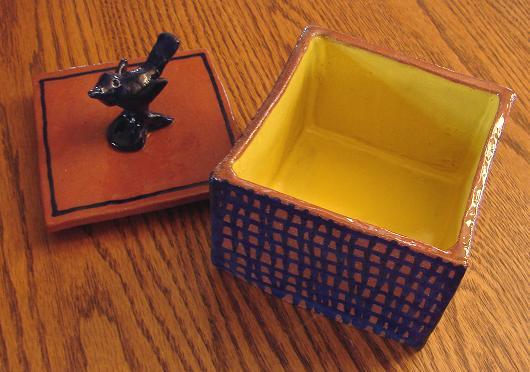 I enjoy making box pots. I had fun with this one, though the bird gave me a bit of trouble... his head broke off and I had to fix him after he was all dry. I was surprised he made it through the firings. With this box pot, which I made out of red clay, I used blue underglaze on the bird and on the design on the pot. I put the blue underglaze in a little bottle and flowed out lines on the each side of the pot, then I took a sharp implement and dragged it down through the lines of underglaze. This was done on the dried piece before the bisque firing. Then after the bisque firing, I put on 2 coats of clear glaze on the outside, which made the red clay and the blue underglaze really pop. I painted on 4 coats of the yellow glaze on the inside... 4 or 5, because yellow on red clay has trouble being bright. I like how this box pot turned out so much that I prepared pieces for 3 more small box pots at pottery this morning. This one measures 4.5 inches square with the sides being 3.5 inches tall. The box pots I'm making next are 5.5, 4 and 3.5 inches square.
I made several critter shaker balls, and 3 of them are finally done. Another one came through the glaze firing also, but the glazes I used didn't turn out yellow enough for me, so I took him back in this morning and he's going into the kiln again. But these 3 are done... they are all about the same size, about 4 or 5 inches in diameter, kinda like a softball or so.
This is Angel...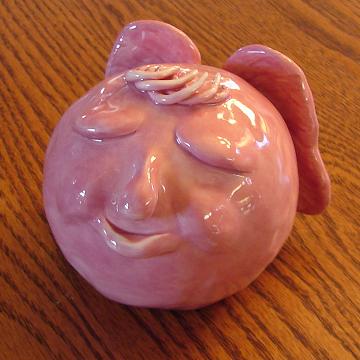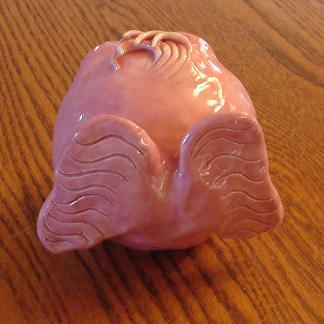 The photo doesn't show it as well as she really is... she is very luminous. I painted on 3 coats of a glossy glaze called Tea Rose, then 2 coats of clear. She's very shiny.
This critter is one I call Happy. I doodled all over him using underglazes. Underglazes are like colored liquid clay; they don't have a chemical reaction aspect like the glass glazes. Usually, you would put underglazing on your piece after it is dry and before the bisque firing, such as I did with my blue bird box pot. But I decided to use the underglazes on this guy after he was already bisque fired. I could have had him fired again, like a 2nd bisque firing, but I didn't, I went ahead and put a couple of light coats of clear on him. This turned out to be very difficult because the clear glaze wanted to make the underglazing run... it was not a good idea, and I won't use underglazes this way again... unfortunately, the same evening I put the clear on Happy here, I did the same thing to a large piece I had been working on for days... and I'm pretty sure I wrecked the thing. Darn it all. Photos on that sometime later. As an example of how not to do something. Anyway, here is Happy...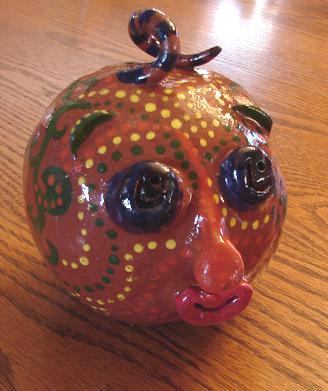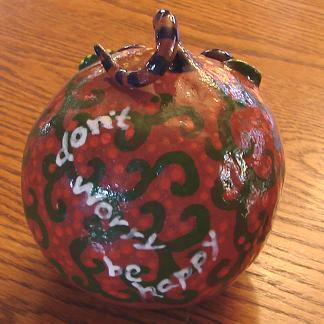 Corny, huh. I prefer whimsical. Again, the photo doesn't really do him justice... he's colorful, and he's somehow a very likeable fellow. Kev laughed when he saw him, and then he picked him up and shook him. Which is, of course, exactly what you're supposed to do.
This next critter shaker ball is not really a critter. He is Thomas Jefferson, and he represents a saying that President Jefferson was known for, though not the originator of...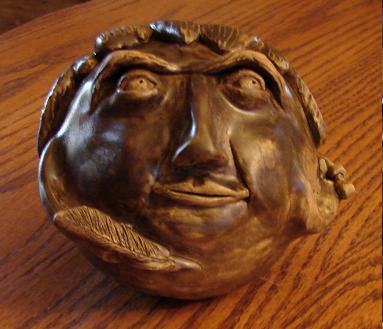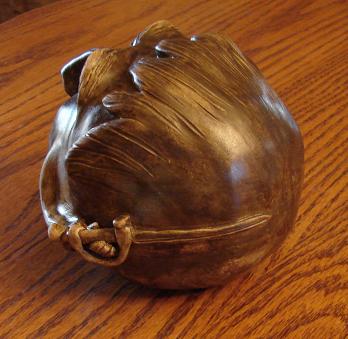 Can you figure out the saying?
I used a glaze on Tom that I've used on other pieces before, it's a matte or semi-glossy glaze called Leather, which is one of my favorite glazes at Space Studios. One of many, because there are so many glazes there to choose from.
I think that Joycie has claimed Tom for hers, but that's still undecided.
I also recently finished 2 other large shaker balls; I made one each for Joycie and Michelle. But I forgot to take photos before giving them to the girls...
This morning at pottery, I finished glazing 2 more shaker balls, and I repaired/re-glazed 2 more for their 2nd glaze firing. Fingers crossed Big Time on those 2. This past Sunday evening while watching TV and doing laundry downstairs, I also rolled out clay worms and cut them up for shakers... so now I have enough shakers for at least 6 more critter shaker balls. Yay! I'm planning to really go to town with underglazing on my upcoming shaker balls. Using underglazes is very fun, much more satisfying than trying to paint detail of any kind using glazes... I'm not so hot at detailed, precise painting. Too impatient, I suppose. (I know that any of my family reading that just rolled their eyes and nodded their head. Ha!)
I have a piece waiting for bisque firing right now that's a tall box pot with a twist (you'll have to wait for the photos), and I used underglazes on it... I'm anxious to see that one completed.
I love going to pottery! When Sammy's football games were taking over my Saturdays, I couldn't go to Space Studios for a couple of weeks, then when I finally could go, I was sick... so not going for about 3 or 4 Saturdays in a row was difficult. I was suffering withdrawal symptoms. Though I went a couple of times in the evenings, I prefer Saturday mornings. I just love spending Saturday mornings in that studio, getting my hands in the clay. The way the sun comes in the windows changes with the seasons, of course, and this morning the sun marched across the table I was working at. At one point it was coming right at the side of my right eye, and that was slightly annoying, but it moved on pretty quick, and I used it to help dry the glazes I was painting on my pieces. My usual Saturday morning session is 9am until Noon, but today I stayed for an extra half-session, until 1:30pm. Very satisfying.