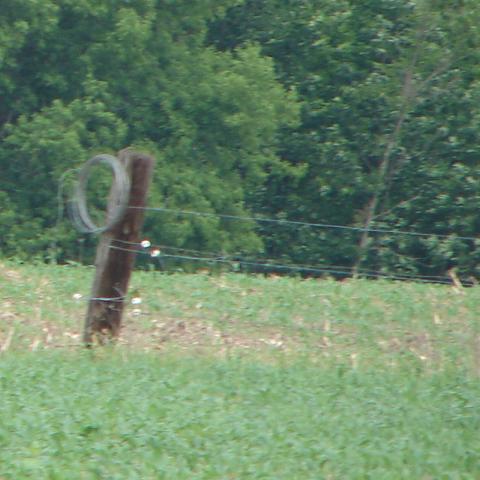 My lack of posting lately has been because... because... I'm tired. That's really my only excuse.
So much has been going on, so much good matter for posting. Like...
My nephews, Michael and James, both graduated from high school. I got to see Michael's commencement and his Valedictorian speech. James' high school is an hour away and on the day of his commencement I was busy checking Joycie out of the hospital. But we did get over to James' open house, which was awesome. Considering my brother and sister-in-law put on that huge party (with tons of great food) the day after a major storm and thus with no electric power, using generators, it was an amazing get-together. We've had lots of thunderstorms in Michigan, and thousands of folks without power as a result. Not here in our neck of the woods, more south of us. Oh yes, Joycie has only one functioning kidney... her left one is the hard-working organ; her lazy right has been lazy since birth. Three days in the hospital from an infection, wherein we discovered her unique kidney arrangement, and subsequently discovered it ain't so unique. She recovered more quickly than I. Her hospital stay was... unique.
Let's see... my in-laws had a helpful neighbor cut down a relatively small tree for them. Unfortunately, while they were gone, on a very windy day (did I mention all the storms we've been having?) and after he'd had a few. The tree missed their house, but took out the power line attached directly to their house, and since it was attached to their house, you know, really, really well... when it came out, it took some of the house with it. What a mess.
Oh, yes, our niece, Stephanie, daughter of my husband's sister, Lisa, also graduated from high school; she was Salutatorian. They live in Nevada, in the Las Vegas area. Huge, huge high school. Nope, we did not attend commencement ceremonies there either. Pretty awesome Stephanie was Salutatorian, though.
And we have another high school graduate; our friends Jay and Sue have their eldest graduating, too. They live in Texas, near Houston, and Kelsey is another smart one. I think she's attending a college near Boston. Not Harvard, I believe, though she's smart enough to get in there. We'll get to see Jay, Sue & Kelsey, along with the other 2 of their brood, Drew and Brooke, toward the end of this month. Now that will warrant a blog post...
Our friends, Sandy and Brian, who have lived in Texas for about 23 years in a very busy metropolis area between Dallas and Ft. Worth went and bought 10 beautiful Texas acres and are having a house built. Their contractor said they'd be moving in by July 4th, and I do believe he's getting done early. Imagine, a contractor building a house and getting done early! The guy has a stellar reputation, and from the photos Sandy has e-mailed to me, the house is absolutely gorgeous. We're planning a quick Texan trip later this summer to see them, and oh, yeah, their new house, too. I can't wait to see her KITCHEN. She is having all the stuff I want... double ovens, 6-burner cooktop, etc., etc., etc. Since Sandra Jean is about the best cook I know, the woman deserves a dream kitchen. Sandy, I'm so happy for you; I will have to post a photo of your gorgeous new home.
Sammy had his last day of 7th grade yesterday, and then party, party, party afterwards. I'm so glad school's over. And yes, Sam is also glad. Though he always misses his daily socializing that school provides... But also, with my still less-than-full-time work schedule, it will be so nice not to have to daily arrange Sammy's transportation. What I would have done without my sister, Kathy, through this whole neck thing, I do not know. My sister, Kathy, has been above and beyond for me, and not just helping with Sammy... helping me with my mental stability as well. I love that woman.
Let's see... oh, we had another graduation! My niece, Alana, received her B.S. degree from Alma College. My sister, Janet, kindly had a backyard barbecue where we could all gather and celebrate. Alana plans to go on to CMU and become a Physician's Assistant.
And speaking of CMU, Joycie completed her 2nd semester, first full year, of college at CMU. She's moved back home, thank the Good Lord. It's so wonderful to have her home again. Joyce was lucky enough to get a summer job at Dow Corning, and she's officially a Union member. Dream summer job for a college kid.
Mike graduated also! From Bay City Central High School, and Joycie was released from the hospital (Bay Med) the day before his commencement, so she was able to attend his commencement ceremonies and a family gathering afterwards. That was a close one, though... we thought she would have to be in the hospital still... I think she would have left her hospital room and went down the street (the high school and Bay Med are right next to each other in Bay City) to see him graduate! Mike's open house is coming up in a couple of weeks. That's another nice thing about Joycie living back at home... we get to see our Mike a lot more often.
I've also got to go into Space Studios & work on some pottery pieces a few times lately... starting back very, very slowly. That's where my very little free time and very little extra energy has been spent instead of posting. Pottery. Ahhh... That about covers it. It's my spirit-lifting-stress-relieving-happy-time. I'm a card-carrying member of The Clay Club now, and every time I think of that, I get a happy little ripple from my head to my toes.
And of course... work. Work, work, work. My backlog from being gone from the office from January 18th through May 12th is just as you could imagine... GINORMOUS. Working from home through my medical leave, keeping up on e-mail, was one saving grace... I also had great help on the incoming mail, and received some things at home to keep up on. But the work. Oh. My. Heck. And I'm still only working 4-hour increments 3 times per week. It's not enough time in the office
of course
, but it has turned out to be more than enough time for me. It's physically draining to a point I would not have believed possible. Yesterday I worked my "4 hours" (plus a little more), came home, actually put on my PJ's and fell into bed for 3+ hours. I worked from home on Monday and Tuesday, and I really kicked ass... each of those days I put in way more than 8 hours total. But I can do that at home with breaks, and Tuesday even included a short nap. Got tons and tons done. I had planned to renegotiate with my doctor to get more time in the office, but I'm holding off on that for now...
So... if you have made it this far, reading all the way down to here, the point is: lots of posts to follow with more details and photos.