Joyce finished her 2nd semester and first full year of college, with exams done by Friday, May 2nd. In April, she had applied for a job at Dow Corning for the summer and was waiting to hear on it. Through Kevin's employment at
Dow Corning
and his membership in United Steelworkers Local 12934, Joyce was eligible for one of the SEED jobs available. SEED, Summer Employment for Employee Dependents, is a college student summer job program for employees' sons & daughters who are full-time college students. Joyce was very fortunate to get one of the clerical jobs at the local plant. The hours are 7:30am to 4pm Monday through Friday, and she makes $8.50 an hour... about a buck more per hour than most college students are making on a summer job in our town. And working no evenings, no weekends. Very nice. And, she's mostly in air-conditioned offices, though not super nice, sleek office surroundings... we're talking a chemical manufacturing site. But still, a super summer job for a college student. And she's a union employee, just like her daddy.
Her job started on Tuesday, May 27th, the day after the Memorial Day holiday. She would have loved to start earlier... she had most of the month of May off. Her first day on the job was mostly with all the SEED students and was all about site orientation, safety, the union, that kind of thing. Her second day on the job took place at the actual job she's working, and again was mostly orientation.
She missed the next 2 days.
Wednesday after Joyce got off work, she drove straight over to Mike's in Bay City. She planned to stay overnight with his family and go into work from there Thursday morning.
Joyce had complained of what I thought was a UTI (urinary tract infection), so I told her to eat yogurt and to drink cranberry juice (which she hates) and lots and lots of water. Joyce has a very high pain tolerance, though, so by the time she complained to me for what I thought was a UTI, it was likely already a bladder infection. She had a lot of pain Wednesday evening, so Mike took her to an urgent care medical place near their home. Her urine tested positive for blood, so they gave her a prescription for an antibiotic for a bladder infection, which Mike and Joyce filled on their way back home.
But... her pain increased through the evening, and by 1:00am she was deeply in pain. She called me and said Mike was taking her to
Bay Med's ER
. I asked her if she thought she could make it to
Midland's ER
, but she couldn't... it was a 5-minute drive vs. a 30-minute drive, and they went to Bay Med ER. She must have been in very severe pain by this time. They gave her morphine at the ER, and she told me later that it had helped.
An eventual CT scan showed that her right kidney was 3 times larger than normal. They admitted her to the hospital proper, and put her in Room 660. It was a room with 2 beds, Nos. 559 & 660, and it was a "kidney dialysis" room. I think they put her in that room just in case... She got to Room 660 about 6:30am, I believe. Mike was with her, and I got there at about 7:45am... just as the G.P. doc assigned to her, Dr. Ahmed, was leaving. Basically, he told her that he had not reviewed her CT scan, but instead had called for a urologist, Dr. Kershen, and that he would be there "soon."
Joyce was still in a great deal of pain, though they had given her a 2nd shot of morphine at the ER just before she was admitted and moved to Room 660. Unfortunately, the dumb ass in the ER that gave her that 2nd shot of morphine pushed it into her IV with one fast push... so Joycie ended up feeling very, very nauseous as a result.
That was the beginning of what seemed to be one stupid, unbelievably inept, uncaring instance after another at that hospital. We had to ask for them to give her something for the nausea about 3 or 4 times before they finally did so.
The urologist did not arrive "soon"... we spent the morning with them telling us he would arrive "soon" and then, later in the morning, he would arrive "in the afternoon."
By about 3:00pm, I once again talked to that RN. I had asked much earlier in the day for someone to contact Dr. Kershen's office and find out WHERE THE HELL HE IS. The RN told me that he had office visits at his Midland office all day, so that's why he wasn't there at Bay Med to see Joyce yet, but he should be here by 5:00pm. I looked at her and said, "You and I both know that if we see him here at 5:00pm, we will be very, very surprised, right?" She agreed and said it would probably be more like 6:00 or 7:00pm... then I said, "So he is NOT coming in this afternoon, he is coming this evening, right?" Right.
I think it was shortly after that time when they decided to move Joyce down to Room 66502. They had people being admitted that actually needed the kidney dialysis room, so they moved her... Outside of each room is a plastic placard with the 2 bed numbers, and then at the foot of each bed is another plastic placard on the wall with the specific bed number for each of the 2 beds in the room. This was the placard outside of the room they moved Joyce into...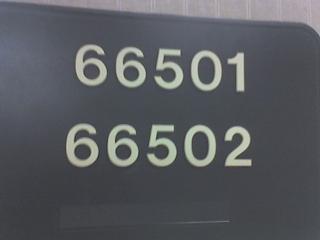 But this was the placard at the foot of her bed...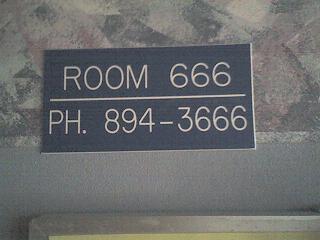 Figures.
By 4:00pm, when Joyce had a searing headache, I asked for them to give her something for it. The RN in charge told me Dr. Kershen would be there "soon" and he'd prescribe something for her.
Two hours later, at 6:00pm I was at the nurses stations yelling at them. I'm talking volume here. Those people had given us so much bullshit through the day and had showed so very little care for my daughter that it was way over the limit for me. I told them to give her a couple of Tylenol or ELSE. I told them I had some goddamn Tylenol (yes, they drove me to SWEARING, and that made me even more angry) in my purse and they had 2 minutes, then I was giving her some. The RN said, "Oh, no! Don't do that." I said, "Then get your ass in gear." Turns out Room 666 was right on, coz I gave them the very devil.
By this time, I wanted to take Joyce out of Bay Med and move her to Midland. (By the way, Kev and Sammy were there by this time, arriving soon after Sammy got out of school at 2:30pm, and Kev had talked to Sharron, his step-mom, who gasped when she found out Joycie was at Bay Med, and told Kev the nickname for Bay Med is Bay Dead. Nice.)
The new RN (because of shift change of course) came in, all cheerful... I told her it was 7:15pm and Dr. Kershen had until 7:30pm and then WE WERE LEAVING to take Joyce to MidMichigan Medical Center in Midland. She was not cheerful when she left the room. She said she would page him. I said NO SHIT. And I followed her out to the nurses station. I heard her on the phone with him, and she apologized profusely about bothering him, but that I was threatening to take Joyce
home
if he wasn't there by 7:30pm. That really pissed me off. So there I was shouting at her while she was on the phone with him, correcting her statement that I didn't want to take Joyce
home
, I wanted to take her to the Midland hospital where she would actually be CARED FOR in a professional manner. Whoo-whee boy.
When she got off the phone, she informed me that Dr. Kershen was currently 60 miles away and would be at the hospital as soon as possible. WTF?!! I was told he was in Midland, 30 miles away.
It was about that time that I started making some calls. I called our insurance 24-hour nurse hotline, and found out that if we just walked out, it's known as AMA (against medical advice). Going AMA would consequently result in that
we
would be fully liable for all charges incurred thus far; insurance would not cover any of it. No AMA, got it. Bay Med has a "patient representative" on staff, so I called and asked for that person. They only work until 4pm, so the best they could do is have me talk to a nursing supervisor... did I want to, they asked... oh, hell yes.
I also called my family doctor's office and asked for the physician on call to call me back.
The nursing supervisor was clearly on the side of the nurses and Bay Med. Duh. Not exactly a patient advocate. She explained that once Dr. Ahmed (who we hadn't seen all day long, since his first & only 7:45am visit) had consulted Dr. Kershen, then Dr. Kershen legally had 24 hours in which to see Joyce. That was his legal obligation. So my bitching about him not showing up basically was fruitless. I explained that I wasn't bitching about him not showing up so much as I was bitching about being told ALL DAY LONG that he would be here any minute and it was now 7:30pm. I told her how they were pumping stuff into Joyce via IV all day long with no explanation. Oh, I told her so much... and I told her how Bay Med SUCKS, and that no way were we going out AMA, so she could just get Dr. Ahmed's ass up here to officially release Joyce, and if he wouldn't agree to do so, then he'd better show up and tell me to my face. (Dr. Ahmed, by the way, agreed to release Joyce.)
About this time, my family doctor's office on call doctor called me. I had my entire conversation with him in front of the nurse supervisor, staring at her the entire time, repeating what he said for her benefit. He agreed completely, after hearing my telling of the day's events, that Joyce was not getting proper attention, but he told me he would definitely not advise moving her to Midland, because that would start the 24-hour process all over again... and Midland would likely call Dr. Kershen also. He also said if it were his daughter, he'd want Dr. Kershen.
So I got off the phone with him, told the nurse supervisor we were staying, but only because of the advice of a doctor whom I trusted. But that she should know, I was not the type of person to just let the events of the day go by... more would be happening in the days to come, I threatened. I was a momma on a mission. She could tell.
Finally,
finally
at about 9:30pm,
Dr. Kershen
arrived. Was he worth the wait? Of course. He's a wonderful, caring man and one of the best in his field in our area. I just wish the wait could've been so much better for my poor daughter, who suffered in an awful way all day long, with pain, nausea and hunger. (They had her on a clear liquids diet all day, which Dr. Kershen promptly put an end to, thank goodness.)
Dr. Kershen explained to us that what Joyce had was definitely a kidney infection. We had figured this out on our own, actually. But the infection was to her right kidney only, the enlarged one. This was due to the fact that it was functioning at only about 1 or 2 percent, maybe, so the infected urine wasn't being flushed out of the kidney. Very painful. He explained that she has what is known as a
UPJ obstruction
(ureteropelvic junction obstruction) to her right kidney, which is why it has become so enlarged over time, and that it is something that happens in the womb. All of her life, Joyce has relied solely upon her left kidney for all the functions kidneys provide the body. Dr. Kershen took Kevin and I, both of us in sort of a state of shock by this point, to another room and showed us the CT scan images. He explained how it was not an uncommon affliction, and also that lots and lots of people live long lives with only one kidney. He also told us how his grandmother lived into her 80's with only one kidney all (or most of ) her life. His recommendation was to treat the infection with antibiotics by IV, which unbeknownst to us, Dr. Ahmed had prescribed (so he did do something!), do another test in the morning, a renal scan, and get a blood culture test going tonight so they can be assured the antibiotics are the right ones for the infection.
Dr. Kershen saw Joyce again I think it was either Friday afternoon or Saturday morning... the following hours merged for me into one hazy clump. Dr. Kershen said the antibiotics were fine, the infection was leaving (which I could tell by Joyce's improved condition), and that she would be good to go.
Joyce's barely functioning right kidney will remain in place hopefully for the rest of her life. Those kidneys, however, are prone to infections and stones, both of which are very, very painful and usually require a hospital stay... so if that becomes commonplace for Joyce, they'll just yank that kidney out of her. Dr. Kershen said removing the "dead" kidney will have no effect on Joyce at all, except it'll stop the infections and/or stones problems that would cause the removal, should that happen.
Later Thursday evening, after Dr. Kershen left, the nurse supervisor and the RN came into Joyce's room, very, very nice, and told us they were moving Joyce again, this time to Room 675. A huge, very nice private room. She also got cable TV (usually an $11/day charge). No extra charges for either. Everyone treated Joyce like gold from that moment on, until she was discharged on Saturday afternoon. They were even nice to me. Because she was in a private room, Mike could stay overnight with her. He had to sleep in a recliner, but he could stay with her. Joyce was doing so much better by then, which was after 11:00pm, and she much preferred Mike to stay with her over her dad or I, that's for sure.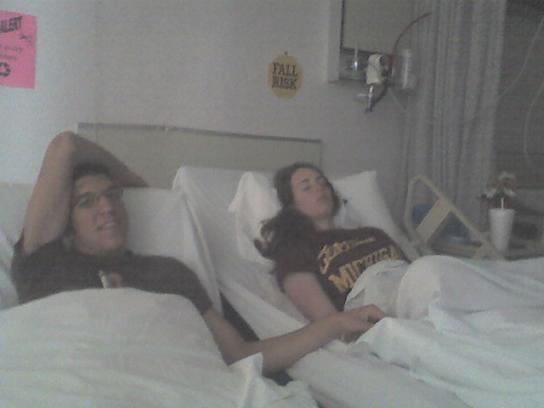 (And sleeping in that recliner would have probably killed Kev or I!) Mike was so great through the whole ordeal. With his experience in hospitals, from the surgeries he's had, he knows stuff... and he didn't hesitate to tell the nurses what was needed. It was Mike who reminded them, sternly, about Joyce needing medication for her nausea early Thursday morning and finally got her some... he was awesome. He even gave her foot rubs...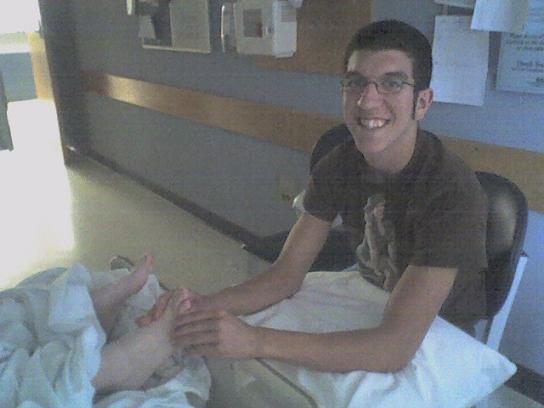 That young man was (and is) wonderful, and having him there with her was the only thing that made me leaving late Thursday possible. I trust Mike with my daughter's life. They are that much in love, and he is that smart and capable.
This is Joycie talking on her cell to her daddy in her new, spacious room...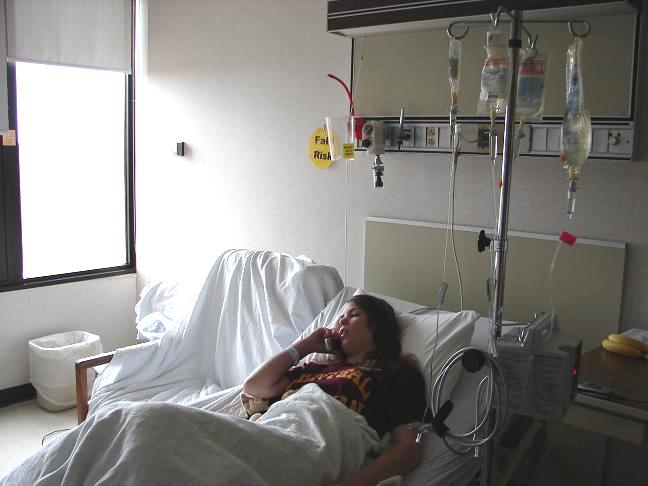 Now for the story of Room 675. First of all, it had a whole bank of windows on one wall... with a view you just gotta love from a hospital room...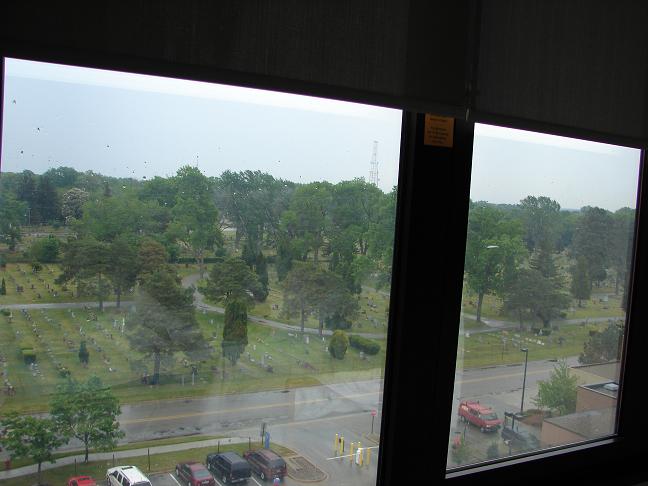 That cemetery is an old, long-established cemetery in Bay City, and that photo shows only a portion of it. Turns out, Mike's gramma is buried there, but way down at the other end. It also turned out that when Mike's gramma became sick a couple of years ago, she went to Bay Med and stayed in Room 675. In fact, Room 675 is where his gramma died. Shortly after her death, like a couple of weeks, his grampa was diagnosed with colon cancer. I'm not sure about the details of the story, but because of the colon cancer, he was later admitted to Bay Med for treatment. And they put him in Room 675. Chills, right. When they took him for more tests for beginning treatment, they could find no colon cancer. They had films or whatever of it from a few days prior or so, but could find none then. Chills again, right. Izzy, Mike's mom, called me and asked what room they had moved Joycie to, and when I told her 675, she gasped. But then she said it was good, because her mom was a very spiritual woman, and she felt it was really good Joycie was in that room. I agreed.
But there's more. On Friday, Joycie's Grampa T., Gramma Sharron, & Uncle Rich (Grampa's younger brother) visited Joycie. Uncle Rich has had some health problems, and not too long ago ended up with having his left leg amputated just above the knee. Had something to do with his arteries; I'm not sure now of the medical terms. He had some problems, and was in and out of Bay Med. He lives about 6 blocks away, which is why he came with grampa and gramma to see Joycie. His final hospital stay was in, yep... Room 675. All good for Uncle Rich since then.
Freaky. But in a very good way. Joyce did not feel uncomfortable about being in that room; quite the opposite, actually. Knowing Mike and Izzy and her family, she was feeling more comforted than uncomfortable. She said she wished had been able to know Mike's gramma. I think in a way, now she does.
Joyce is all better now, and went back to work that following Monday. They were really great to her at work, and were quite concerned about her. No flack from 2 days absence. You'd think of course there would not be, but at some places, there would... Her only complaint is that she doesn't have enough work to keep her busy, so her job is
boring
. I told her to find something to do. Actually, Joycie improved much, much more quickly than I did. Being there Thursday from about 8am until about 11pm, with no comfortable place to sit (for my neck) and being so tense and upset for most of that time... ugh. I spent most of the hour ride home that night bawling... from all of it, from pain, for my daughter's kidney... then back in the hospital with her Friday and again Saturday morning... I spent the remainder of Saturday, after we got home from Bay Med, and all day Sunday in bed.
So now, we have to get Sammy checked out on his kidney situation. Just because Joycie has this condition, doesn't mean Sammy does, but statistics do show that when one sibling has it, other siblings can be prone. No medical proof though. Of course, not... as far as my research shows, they don't know why this UPJ obstruction occurs. It just happens. Nowadays, they can discover it in utero via ultrasound, and sometimes repair it in utero. Also, by the way, this condition does not affect Joycie's ability to have a child. Though, you can bet, the ultrasound to check for this condition will definitely occur once (or if, I suppose I must add) she ever does become pregnant.
So there it is. I told you it was a long story... a long, long story.
One more thing... last, but not least, here is a photo of the big, rolling granite ball fountain in the front entrance of Bay Med...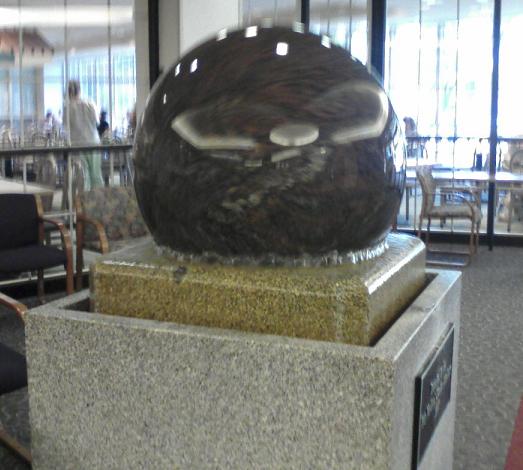 It's an awful cell phone photo, but no photo could do it justice anyway... you have to see it in person. It is so cool. So big. So rolling. So watery. So soothing. So mesmerizing. I want one.