Today was a gorgeous day. Sunny and warm. All the ice has left the pond. We still have a few little bits of snow here and there, but it was almost t-shirt weather.
Kevin and Sammy spent the afternoon cutting, splitting and stacking wood. They've set up a new area for stacking by leveling some sand out (sand that Kev took out of the pond), and now they have lots more room for pallets and rows.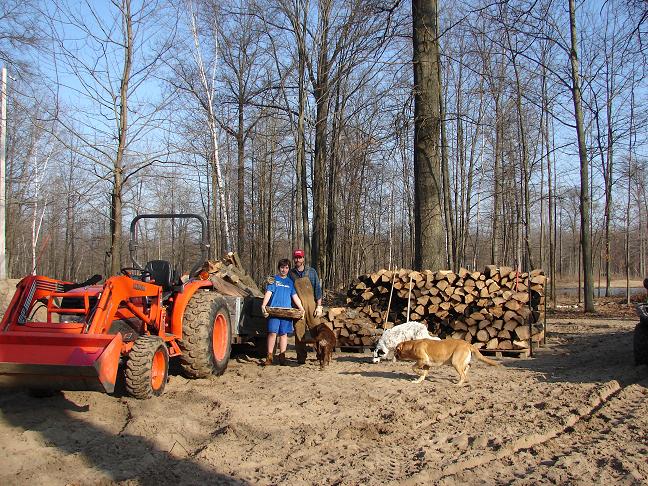 Our pantry is getting kind of bare, since we haven't gotten groceries in so long... Kev's just been picking some up here and there, since I can't get out to do grocery shopping proper. He had bought some Johnsonville brats and Polish sausages the other day, and we still had the sausages... So I thought I'd make red beans & rice for dinner for my hungry boys. From scratch, because that's what I had to work with. I got online and started to look for a recipe. There are only about a zillion out there. Each one I looked at required hours of cooking, like in a crock pot, or overnight with the beans, or something like 24 different ingredients. Ugh. I'm more of the Rachel Ray make dinner in 30 minutes type. So I said to heck with the 'net and rolled up my sleeves. I made a red beans and rice with sausage that was quick and easy, and it turned out super duper delicious! Here's my recipe...
Quick Red Beans & Rice with Sausage
In large pan, such as Dutch oven (I used a wok fry pan), melt about 1/3 stick of butter.
Chop 1 medium onion, medium sized pieces, add to melted butter.
Slice 6 sausages on the diagonal and add to onions and butter.
Sprinkle with Tony Chacheres'; to taste.
Cook until well done.
Then add the following:
"Chicken Juice*" about 2 cups, or 1 can (or 2 cups) or so of chicken broth
About 1.5 cups Minute Rice
1 small can El Pato tomato sauce
2 cans red beans, your choice, drained and rinsed
Cover and cook about 15 or 20 minutes.
Serve with sweet corn bread muffins, aka johnny cake muffins. I use the Jiffy mix, and since I didn't have any eggs, I substituted a big spoonful of Activia vanilla yogurt again (like with Sammy's waffles yesterday, which is what I had in the 'fridge), plus I added about a tablespoon of sugar. They were sweet and yummy, soft, moist and chewy... I think the yogurt for eggs is a permanent substitution.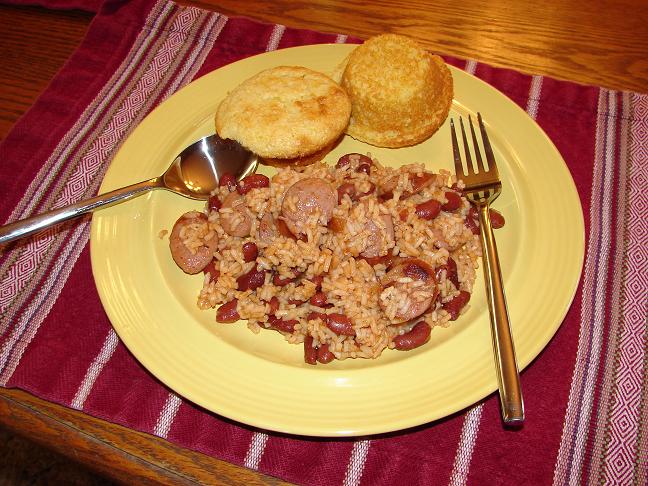 It was really good. Kev added more Tony C.'s to his, but the El Pato made mine spicy enough. Sammy even liked it.
*Chicken Juice is the juice from baking chickens, The Good Stuff,
that I've mentioned before
... this chicken juice adds so much to other recipes & makes them so good. And when I bake a couple of chickens like that, the meat disappears... it's so good, it's gone quickly. Since I always pick over the carcass and give the ukky pieces to Barn & Betty (our dogs), with a little to the cats, too, nothing goes to waste on those birds. I put the juice into one of those Ziploc containers in the freezer for just such days as this. This juice was from early January, before my surgery. I've done next to no cooking since then, so today it felt good to not only cook again, but to make up a recipe... and have it turn out so good that Kev told me 5 times how much he liked it.