Sammy has become the master of making pancakes at our house. I took these photos before his recent haircut, by the way... so you can see how badly he needed one... but doesn't he look like a great pancake chef? Oh, yeah...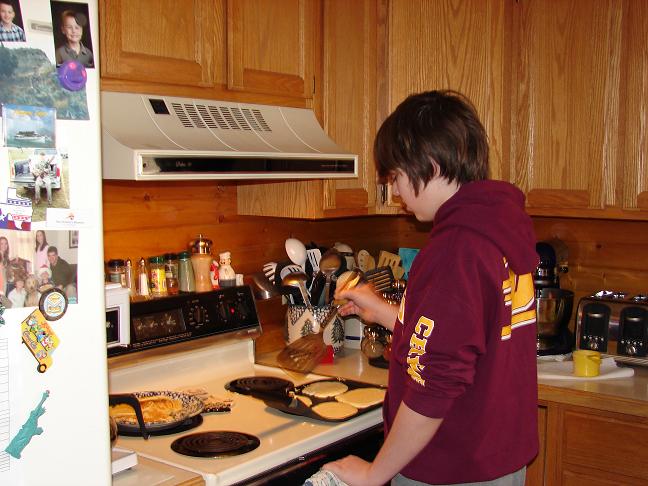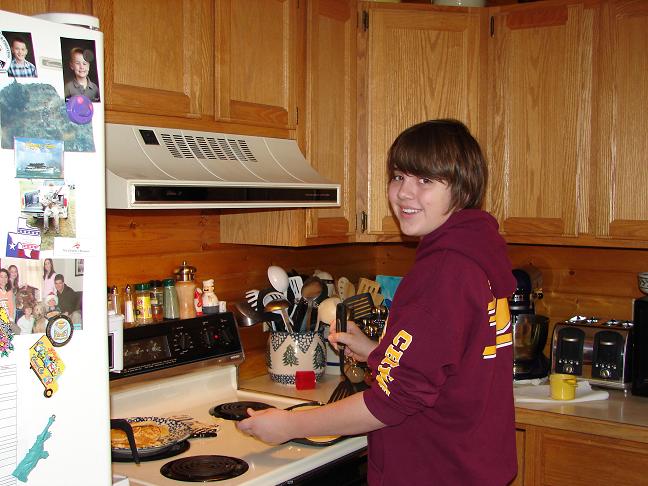 We prefer Bisquick for pancakes, instead of any of those pancake mixes. And when his
Uncle Jim gave us that jug of syrup
, Sammy couldn't wait to make more pancakes. He's a pancake makin' fool & a fool for pancakes!
This morning, he took a little diversion to waffles... a while back, for either my birthday or Christmas, I can't remember which now, my in-laws (Dad T. & Sharron) gave me a Belgian waffle iron. Oh, man! does Sammy like those waffles, and so do the rest of us! Big squares for holding all that yummy syrup. Mmmm...
Sammy used Bisquick for the waffle batter, but when he discovered we had no eggs left, he was quite unhappy, as his little expletive would indicate. I convinced him that a couple of big spoonfuls of vanilla yogurt would work just as well, and he went with it. Couldn't waste the 4 cups of Bisquick. And it did work just fine. The waffles were real good. He and I had a wonderful breakfast together. Or rather, lunch, because it was close to noon by this time.
Sammy slept in late because he hadn't gotten much sleep the past couple of days with his friend, Austin, staying over night. It's probably good that he got some extra sleep this morning, because his friend, Zack, is staying over tonight.
I tried to get up several times this morning, but just couldn't seem to stick to it. I was up a couple of times, but laid back down. After waffles, I laid back down again, "just for a few minutes," and didn't get up until 7pm. Again, I tried several times to get up and going, but just couldn't do it... I felt ill and in pain, the waffles helped at first, and then they didn't & I felt sick, and then it was just like someone shut down my power button. Whatever it was, I must have needed it. And now it's almost 11pm, and I'm ready to go back to bed. What a wuss. When I finished my dose of Invanz this evening, Kev said just 4 more of those... I am so looking forward to be done with the IV thing and to get this PICC line out. My PICC line started to hurt yesterday, and today it's still very painful. Fingers crossed no complications with that. Or you would likely hear several expletives come outta me. (Can't imagine where Sammy gets it from.)
Today is my sister, JoAnne's, birthday. I didn't call her until 7:30pm to wish her a happy birthday, but I assured her she was my first phone call of the day! Happy Birthday, Joie!!!
I texted Joycie just a little bit ago and asked her to send me a pic of herself without her wearing sunglasses, and I got this lovely photo...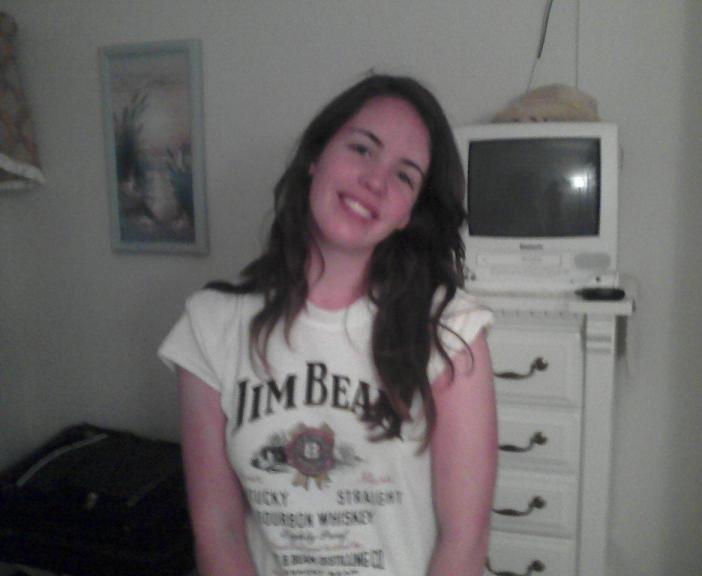 Joycie looks like she has gotten maybe a little too much sun. I miss my beautiful girl! She, Mike and Angel will be flying home late on Sunday, but then Joycie will stay over at Mike's house and head from there directly to class Monday morning, since they'll get into Bay City so late at night. Which means I probably won't see her until Tuesday evening. *
sniff
*