Every year in mid-December, my sister, Janet, and her husband, Bob, have a family Christmas get-together, so that we can all have some Christmas where the entire family is present. Some years not everyone can make it... the older we get, the more difficult it is to get everyone together on one day. Part of it is because our children are getting older, and they all have so much going on in their lives.
My two nieces, Janet & Bob's daughters (Susan & Sara), both live a few hours away from "home"... this area where most of their family (both sides) still live. Susan and Sara & their families, spend Christmas day at their homes. So that my brother-in-law's side of the family have a chance to also have some Christmas with them, they are all usually at this mid-December party, too.
This year, though, it was only my (Janet's) side of the family. And we were all there. Also, Mike, Joycie's boyfriend, and Troy, my niece, Michelle's, boyfriend, were both there, too, and since we all adore those two young men, it was nice to have them with us. The day was wonderful.
It was beautiful weather, a sunny day, with lots of snow on the ground. Janet always decorates her house so nice, and it felt like Christmas. Their house smelled so good, too. Janet and Bob had made lots of food, and Bob made his famous fudge. We stuffed ourselves, and we all talked and talked. Then we all gathered in the living room and watched Rogan and Austin, Susan's son & her soon-to-be step-son, open the Christmas gifts we'd brought for them. It was so much fun to watch those young boys open presents. Our Sammy is the youngest grandchild in the family, and now that he's 13 years old, the gleefulness of a little kid tearing open a present in front of the whole family is achieved only through Rogan and Austin now. So we all loved it.
I took many photos, like I always do, but this year, I made a special effort to get a photo of each person in my family. I also left my camera sitting around, and Sammy snapped some photos, too. Here is a sampling...
From left to right, on the sofa, Mike & Joyce, then my nephew, James (aka Jimmy), then Rogan is sitting on the floor on top of Austin's legs, then Stewart (Austin's dad) & Susan (Rogan's mom)...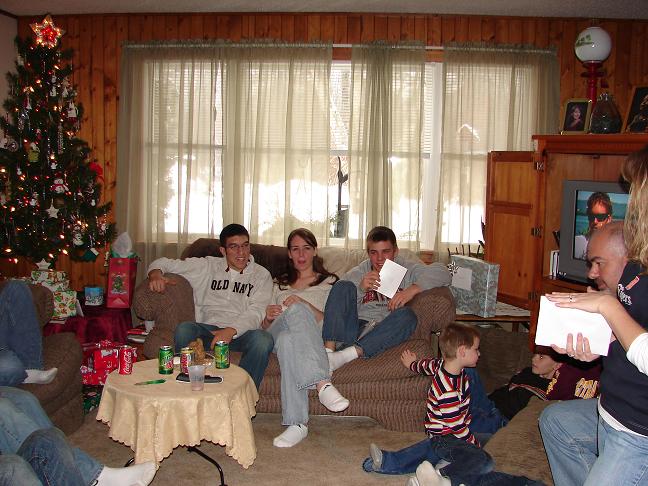 Rogan, Austin and Sammy...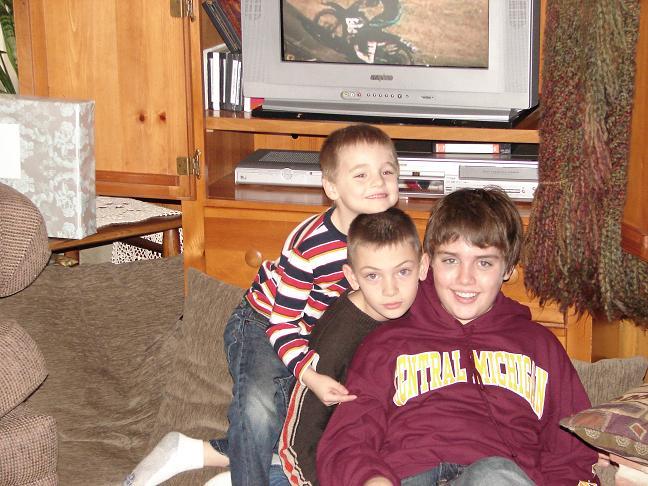 My Daddy (Jim), and Michael, and on the left, you can see half of Derek...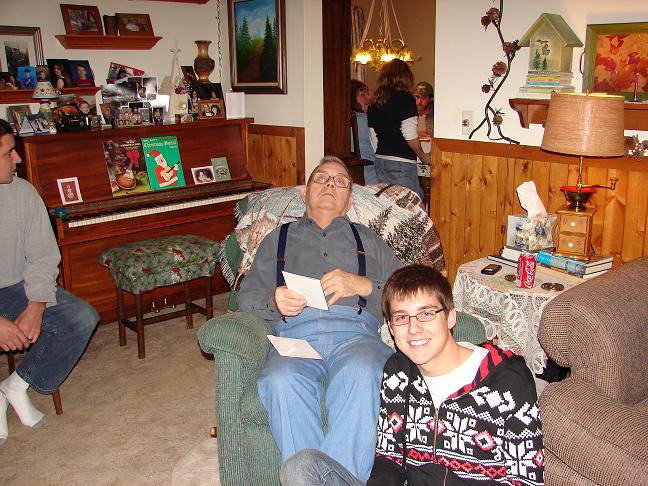 Stewart & Susan...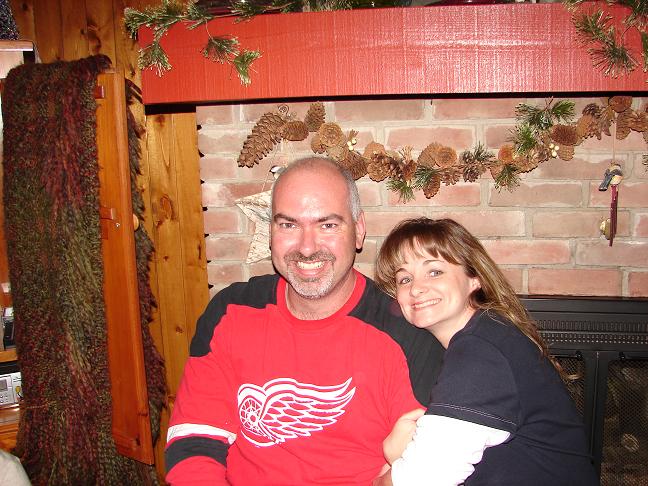 Troy & Michelle...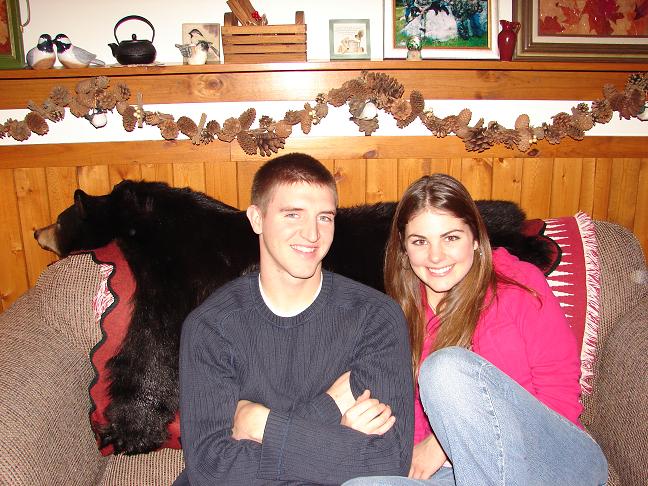 Jim, Kev and Derek...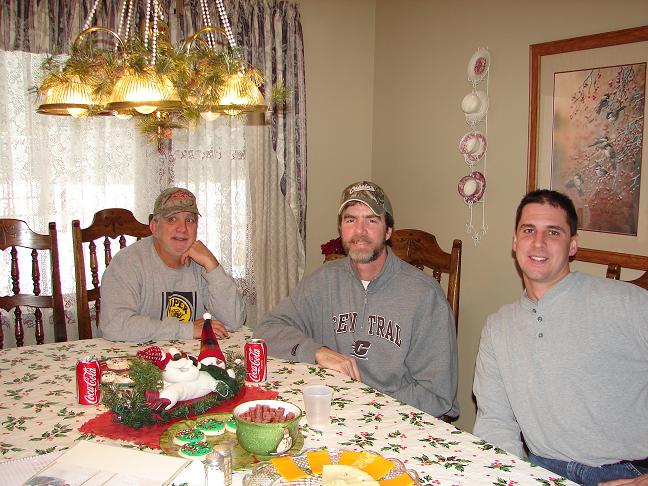 Kathy & Bob...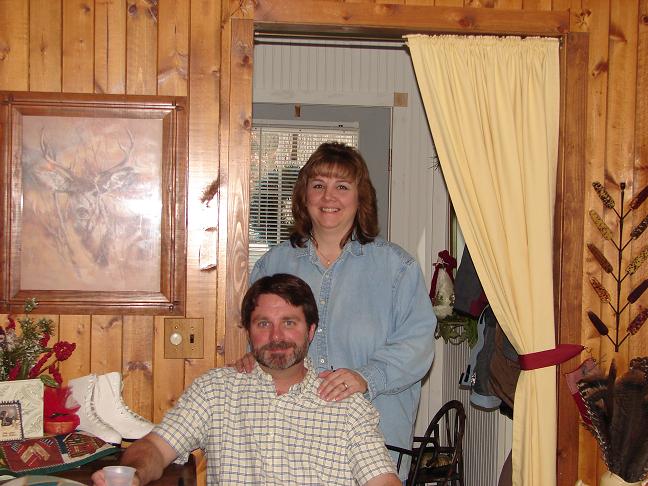 Sue with James and Alana...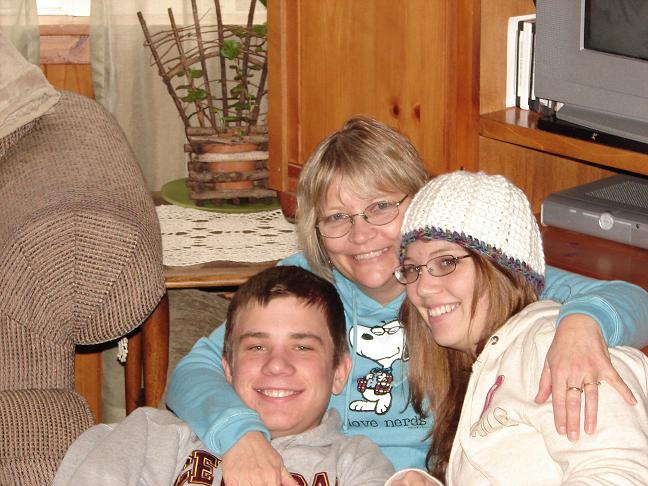 Sammy and Rogan, a photo Sammy took - he's really good at holding that camera out and taking a photo...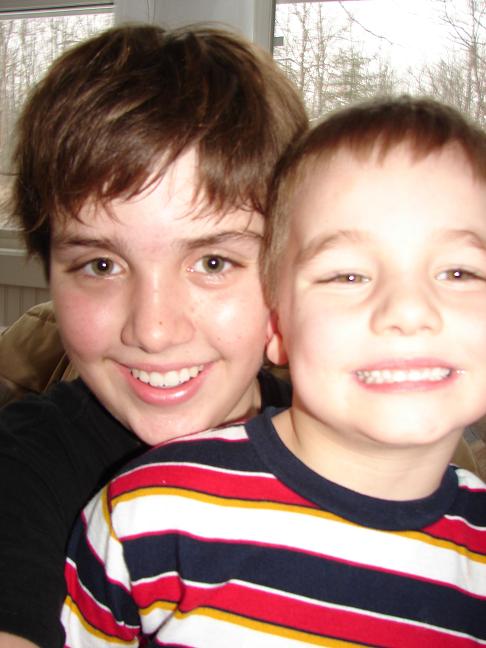 My Mom (Joyce) and Alana, with Sara & Derek in the background...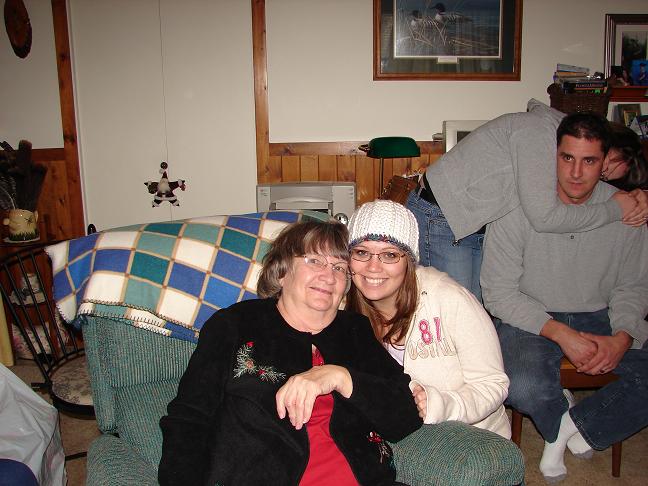 Sara & Derek, the newlyweds...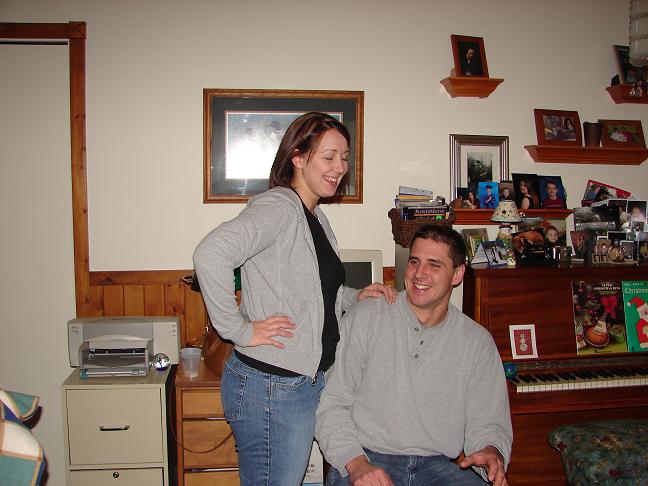 JoAnne (aka Joie) and Rogan...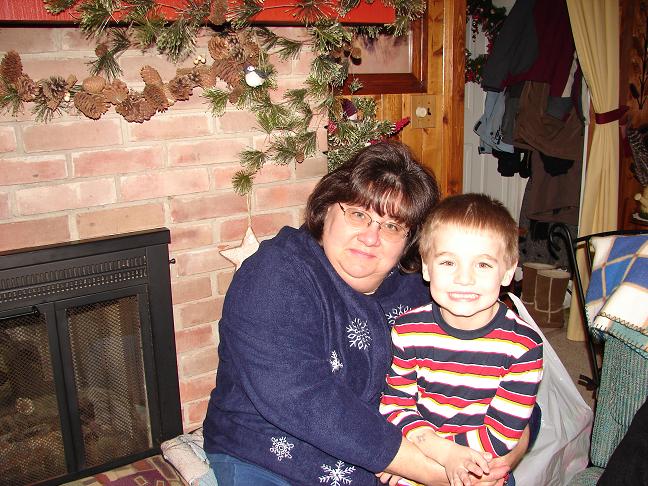 Bob & Janet, not the greatest photo of Janet, but trust me, it's the photographer, not the subject!...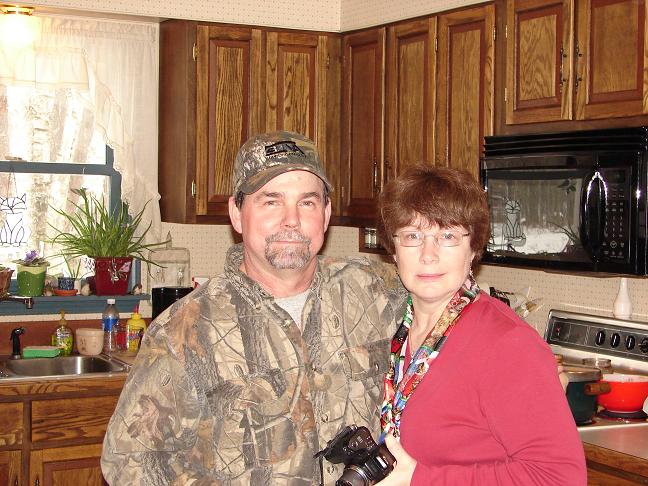 Tearing into presents...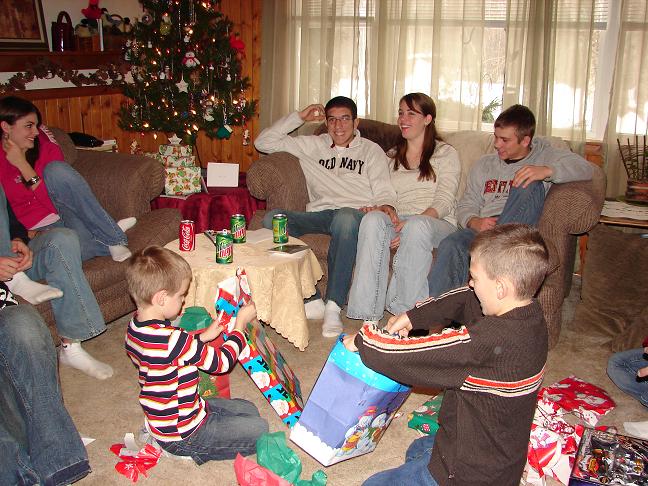 There's a photo of Janet smiling! This is right after Rogan and Austin had opened their gifts from us. After each gift opening, they go to whoever all gave them the present and give them each a hug and a thank you... second-cousin Sammy was first, I believe, and that hugging was super easy for Rogan and Austin coz they just love Sammy (and vice versa!), then Great-Uncle Kevin, then Great-Aunt Julie, and then... they had to hug second-cousin Joycie. I'm not sure why the boys' shyness kicked in at that point, but it did. In this photo, Rogan and Austin are each trying to make the other be the first to go over to Joycie to hug & and thank her... it was really funny...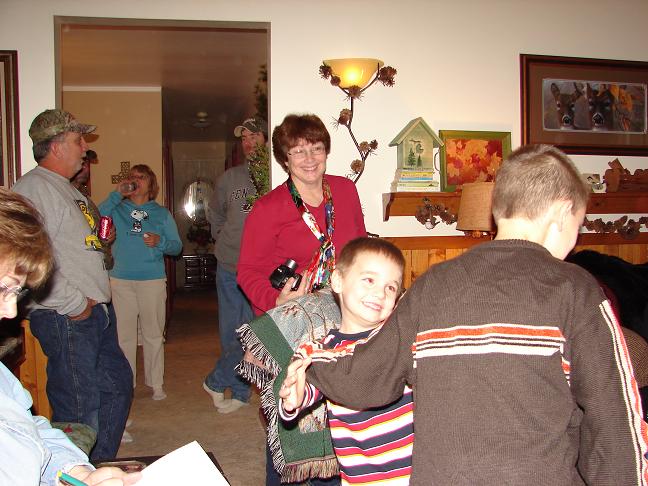 The party ended earlier than usual because of the predictions of a big snow storm... Susan and Sara and their family members all had over a 2-hour drive in front of them to get back home, and so to try to beat the storm, they all left around 4:00 pm. That part was kind of sad, because they had planned to leave the next day, on Sunday. But the snow storm prediction was accurate, so it was good they left when they did.
The snow came, and even more the next day, and on through the night Sunday and the wee hours of Monday morning. So even though the snow cut our family party a little short, it was all good... Sammy got a snow day off from school that Monday. Awesome.