For Christmas, Kev, Joycie & Sam gave me a gift certificate to
Space Studios
for a 4-week pottery class. This is what I've been doing with my Saturday mornings now, and I am
lovin'
it. I'm working with red clay, and I'm "building" pottery, as opposed to throwing pottery on the wheel. I'd like to try the wheel sometime in the future, but I've done it before... way,
way
back in high school, and it's difficult.
Before going to my first class, I got some ideas of things I'd like to make. My first effort was a box pot. I wanted to make one to keep wooden matches in, something pretty to sit on the counter instead of a cardboard box of matches.
The
class
is just going there, having the owner or someone else, show you the ropes, answer your questions and guide you. You can make whatever you want. At my first class, I explained I wanted to make that box pot, and that's when I learned I had to get all the pieces of it ready, but couldn't assemble it until the following Saturday because the clay had to harden a little bit to be workable and maintain it's shape. So after I prepared all the pieces, I left them on a board and wrapped them up in plastic sack so they wouldn't dry completely. The class is three hours, and that only took about half of my class. I then started on a balloon pot, which is draping clay around a blown-up balloon. I got this idea from a photo I saw of one, and I thought it seemed kind of easy. It isn't. It was satisfyingly difficult. I spent a lot of hours on that, and it's finished and drying, getting ready for the kiln. I'm making it for Kevin, so I'm not sharing the details here yet. After my second Saturday, last weekend, which I spent finishing my box pot and then working on my balloon pot, I was so excited, that I went Monday evening and finished up the balloon pot.
The "4-week" gift certificate is really for four 3-hour sessions, which I used up in 3 weeks, with yesterday being my last session. I started a set of candlesticks and worked on another small item yesterday... then signed myself up for 8 more sessions. I love it, and it's addictive.
I saw the building being built last year because I would drive by it on my way into work. It's a really neat building, and this photo doesn't do it justice.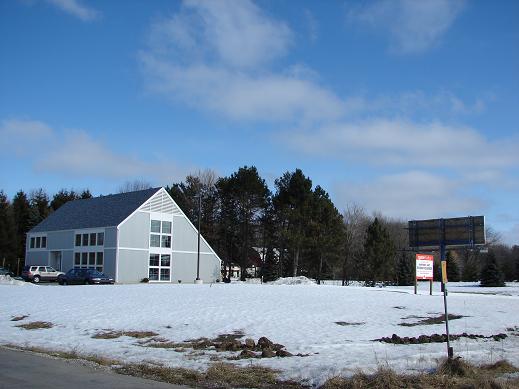 The interior includes a gallery, as well as a huge pottery workroom on the ground floor, with an office and a painting studio on the top floor. Lots of windows and light. It's a lot brighter than my photos show. This is the pottery workroom.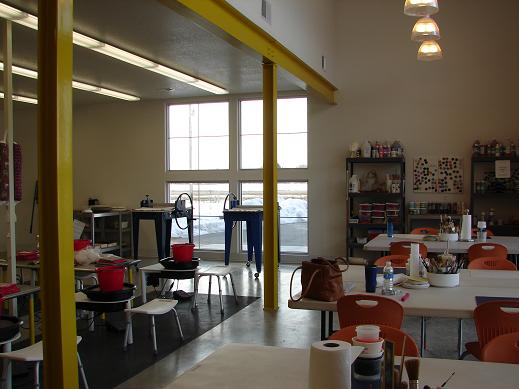 And another view of it. It's a super nice set-up. The 2 large, blue machines near the windows are for rolling out your clay into slabs, which I used when I made my box pot. Very handy.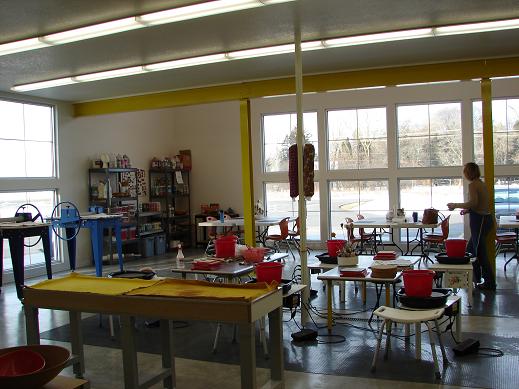 The center of the room is where the wheels are located. I work at the center table area, and I enjoy watching folks using the wheels.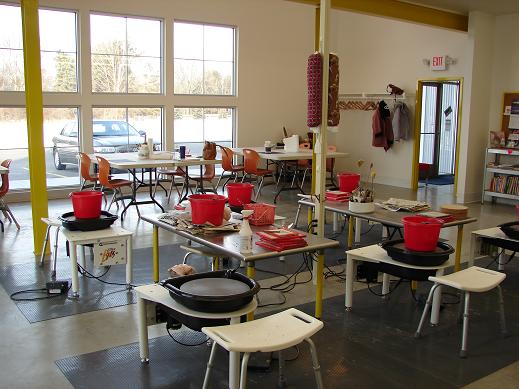 Part of your "class membership" includes an assigned storage bin, used to keep your work-in-progress. I'm No. 43. It looks empty because both my projects are over on the drying racks, and it's holding only my bag of remaining clay... but by the time I left yesterday, it was full. And as I'm writing about this, I can't wait to go back! Did I mention it's addictive?!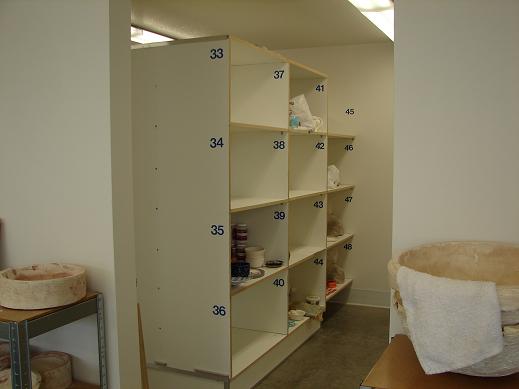 I totally forgot to photograph the kiln area, but here's a shot of my box pot drying. The owner, Kathy, handles all the firing, and she likes all the projects to dry very, very slowly. She does some beautiful work in pottery; there are a couple of masks hanging on the wall that she's done, and they're very interesting and unique.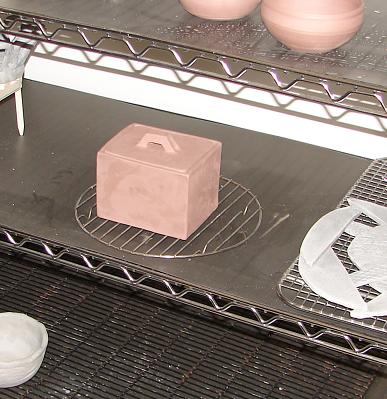 My little, plain box pot doesn't look like much sitting there, but it took a lot of work, and what I plan to do with glazing is going to take a lot of work, too. I'm looking forward to the glazing part.
I decided from the first not to stress out about perfection, and that's part of why I'm enjoying this so much. It's very relaxing. And it's nice to get my creative juices flowing. If you have any urge to work with clay, however tiny, I strongly recommend you find a studio in your hometown and go for it. Pricing is very reasonable. For the eight 3-hour sessions I just paid for, I get those 24 hours of studio time, 25 more pounds of clay (and I still have almost half of my original 25 pounds yet!) and all the firing and glazes you need for whatever you make out of your clay. You can make one huge project or 50 little ones, doesn't matter. The clay comes in 12.5-pound bags, and you can choose white or red, mix it up however you want. The studio has every tool imaginable available, and the owner and her employees (on-site artists) are super nice and very knowledge... and good teachers. Not everyone who is knowledgeable about something has the talent to teach, but so far, everyone I've worked with at this studio does. It's a bright, clean, well-organized studio, and I enjoy every minute I'm there. All that for $6 an hour. That's a great deal.
Did I mention it's addictive?...