You know how something is going along just great, everyone's having a good ol' time, but then some asshole just has to go and put a blight on the fun... Such is the case this morning at the bird feeder.
Earlier this morning, before real daylight, there were so many birds at my feeders. It had snowed during the night, so I could see what was easily a hundred birds. Small, medium and large dark birds against the white snow. I recognized the usual visitors, but there were some I couldn't identify. So exciting! (This is what passes for excitement at my home at 6:50am... that & a fresh cup of coffee.)
New arrivals recently were mourning doves this past Thursday afternoon.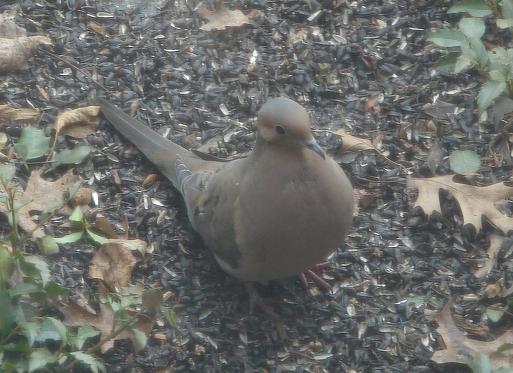 I've always loved mourning doves. As a kid, I used to call to them and they'd answer me. I still do that.
And the female downy woodpecker's counterpart came back.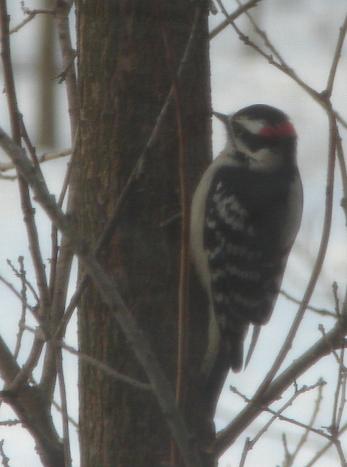 Early yesterday morning, a cardinal finally arrived. I took so many photos, and they were all horrible, so I give you the least horrible.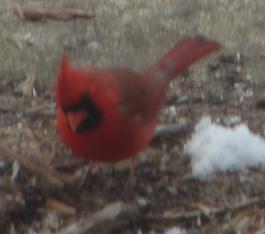 Isn't he beautiful? He must be a young bird since he is so very
red
. I can't remember where I learned this, but I think the older the cardinal, the less bright red are his feathers. As I write that, I'm now wondering if that's true... sounds like a research project, huh...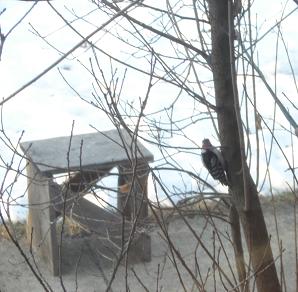 I've sat outside on my stool trying to get photos of birds, hoping they'll get used to me. I've left my stool sitting out there, so they at least get used to it. My brother, Jim, made this stool for me out of rough sawn oak from trees off our property. I've had it for more than 20 years, and it's as sturdy as ever. I keep it on our front porch as a table between our Adirondack chairs. This old stool is one of my favorite possessions, and I think of my brother all the time when I see it or use it. Here's a photo of it that I took while trying to photograph the male downy woodpecker. The birds have all gotten used to it... if one can judge familiarity by quantity of bird poop.
I've been wanting to get a photo of a junco, but those little, dark birds are wary and quick. When I'm sitting out on my stool, it takes them a very long time to venture back to the feeder area, and even then, they will alight on a branch and stay for just a couple of seconds. It's frustrating. Here's my best effort so far, and I don't even want to tell you how many photos I've taken of them... half end up being nothing but branch or snow with no bird. Look at his little feet curled around the branch.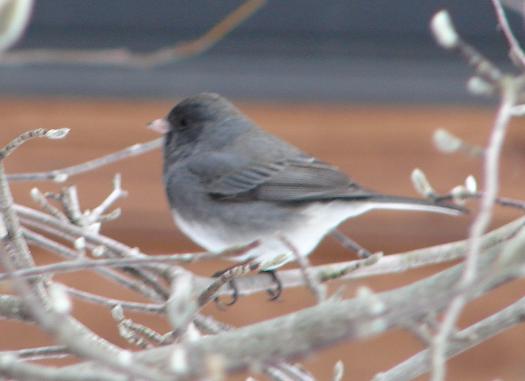 I would also like to get a photo of one particular tufted titmouse who has been at the feeder quite a bit lately. He's recognizable because he has somehow lost his tail feathers. He looks so odd, like a fat, little blob. The lack of tail feathers doesn't seem to affect his gracefulness, though, because he flits from branch to feeder and back just as well as all his other tail-feathers-intact friends. I've tried to photograph him from inside, but no luck, and he's not been around during my stool-sitting sessions.
So... back to all good things... and how they must come to an end. I've been working at my computer and drinking coffee this morning, enjoying watching the birds and the snow come down. When it began to get light out, the squirrels arrived. I've liked the squirrels. I noticed one that finally figured out how to get onto the feeder... Stupid me felt sorry for them, so I put on a jacket and went outside to fill up the feeder and sprinkle some black sunflower seeds on the ground for the squirrels, blue jays, and others who like to peck at the ground instead of up at the feeder. I was able to get within touching distance of that squirrel pigging out on the ledge of the feeder before he noticed me. And, boy! did he take off once he became aware of me. Cracked me up!
Now, he ain't so damn funny... having learned how to climb the burning bush branch near the feeder until it bends down enough...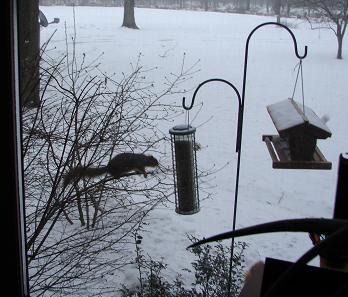 to leap to the wild bird seed feeder...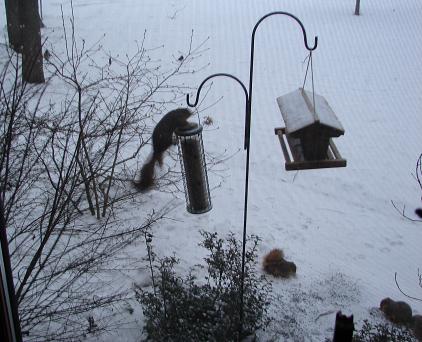 then leap from that feeder to the wooden one that holds the sunflower seeds...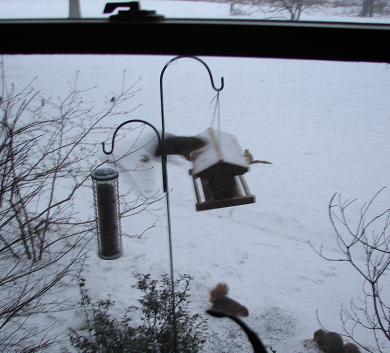 then do the upside down acrobatics to get a comfortable position on the ledge...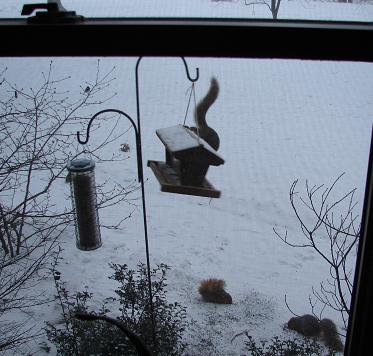 while all his friends make do on the ground with the snow-covered meal...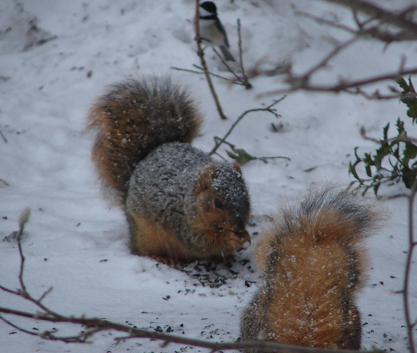 he enjoys the best seat in the house...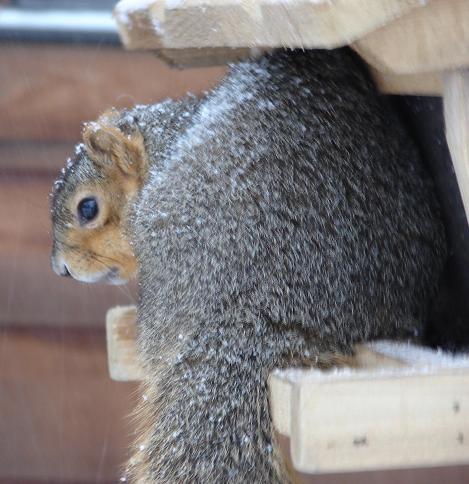 And now he won't stop doing it. I've opened the window and scared him out of there, along with every other creature at the feeder, at least a dozen times while I've been writing this post. Grrrr..... Very irritating. Not so funny now. Damn squirrel.