Both of my kids have been looking forward to today for a while now... Sammy because he got a nice gift to give to Beth, his girlfriend, and Joycie because of Kyle, her boyfriend. I'm happy for them both because it's nice to have a sweetheart on Valentine's Day. I have a sweetheart, too, but like I told my friend, Sandy, yesterday... after so many years, for the 2 of us it is basically just another day in February. I'm not sad about that at all, there are more important days for us than February 14th. Like our wedding anniversary (24 years this April!), our kids' birthdays, our birthdays...
But when you're young and have a sweetheart, this day is pretty nice. Joycie's Valentine's Day actually started last night at about 8:30... Joyce was upstairs in her room, I think she had been practicing on her violin, all comfy in her pajamas (she skipped soccer practice because she wasn't feeling well; she's been fighting a cold), and Sammy was up in his bedroom reading. Kev and I were watching NCIS on TV when all 3 dogs started raising a ruckus. It was Kyle at the door, surprising Joycie with a dozen red roses.
And was she ever surprised... and oh, so very happy.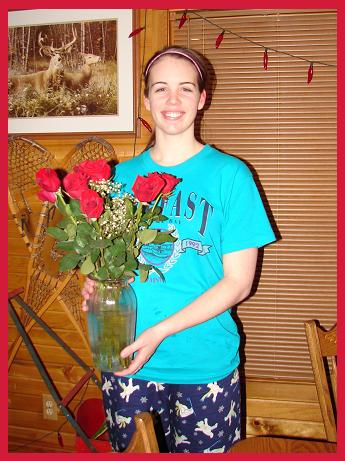 A dozen beautiful red roses, delivered in person to her door.
He certainly made her Valentine's Day special. Ain't love grand?!