It's been a cold week so far. Monday was so cold that school was called off... the kiddos were very happy about that. Me, too, since I decided to call in on vacation and spend the day with them. The temperature was well below zero, with a wind chill of something like negative twenty. I heard that means frostbite within 10 minutes. Not so great for all those kids waiting for the buses. Good day to call off school.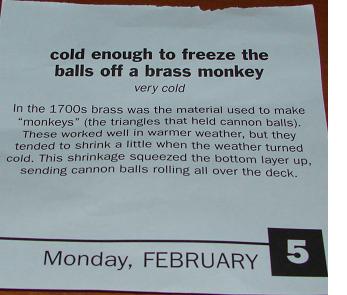 It seemed almost as cold Tuesday morning, but school was on. When I got to work that morning, I tore off the pages of my page-a-day calendar to bring it up to Tuesday; it's one that explains the origins and meanings of phrases and sayings. For Monday, it read: cold enough to freeze the balls off a brass monkey. Pretty darn appropriate. I brought it home to show Kev. This morning when Sammy & I left the house, it was exactly zero degrees. Brrr. It is supposed to warm up some now, and I think we're going to get some more snow. Yes! I don't mind cold winter weather and I love snow... but this super cold weather is awful.
Kev has been off on his short break between his afternoon and midnight shifts. Yesterday, even though it was cold out, he went out walking in the woods with the dogs for a while. It was a beautiful sunny day. He listened to music on his MP3 player that we gave to him for Christmas. So yesterday evening when Sammy, Kev & I were watching NCIS, Kev paused the show & told me that I had to listen to "our song" on his MP3 player. I didn't really know what to expect... there are a couple of songs that have meaning for us, but we don't really have an established "our song" song. So I put in the ear buds and heard "Songbird" by Fleetwood Mac, a song written by Christine McVie. I've heard this song tons of times, but this time I really
listened
to it. And that's what Kev said, that he really listened to the lyrics for the first time that day... and he listened to that song several times. Thus, he declared it Our Song. I just love that man. I had kind of a rotten day at work, nothing specially rotten, just lots of work stacking up and headachey stuff to handle, and I was cold all day. Kev almost always has had good timing and last night was no exception. I felt so much better...
Songbird

For you, there'll be no more crying
For you, the sun will be shining
And I feel that when I'm with you
It's alright, I know it's right

To you, I'll give the world
To you, I'll never be cold
'Cause I feel that when I'm with you
It's alright, I know it's right

And the songbirds are singing,
Like they know the score
And I love you, I love you, I love you
Like never before

And I wish you all the love in the world
But most of all, I wish it from myself

And the songbirds are singing
Like they know the score
And I love you, I love you, I love you
Like never before, like never before