Today is a beautiful, sunny day. Cold, but sunny. It was a bit cloudy this morning, and we got a little more snow. But now it's sunny and 21 degrees. I've been working at my computer since Kev left for work this morning, around 7am. (Working on some spreadsheets for my job, not "fun" computer work.) I have been enjoying the birds at my feeders all morning. They started to arrive as the sun barely started to rise.
New arrivals on Friday were goldfinches, wearing their winter browns. I haven't been able to get a good photo of any of them, though, nor of the juncos. Now and then, I've been sitting on a wooden stool on the sidewalk near the feeder, freezing my butt off while sitting as still as possible. I have gotten a few nice photos that way, and I think the birds are starting to get a bit more used to me. Definitely the chicadees... a couple of them almost landed on my head. Earlier this morning, I sat out there, but only for about 10 minutes. Too cold. Needed coffee.
I got a couple of nice shots of a nuthatch.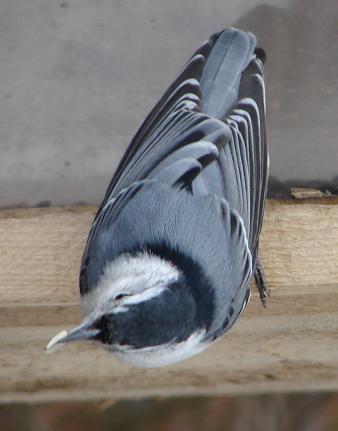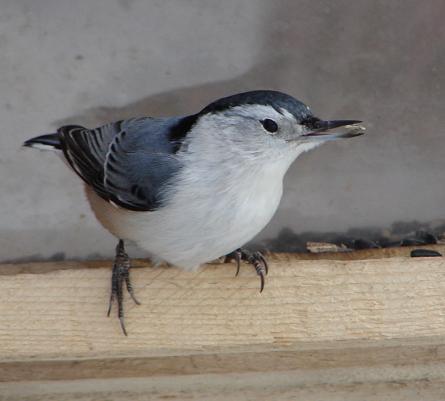 All the larger birds stay away when I'm out there, though. I filled up the feeder before I headed back into the house. The red bellied woodpecker came back right away. He landed on the feeder and proceeded to do what he seems to do best at the feeder.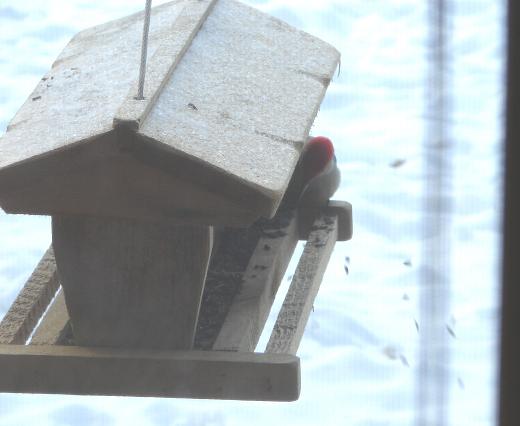 I took that photo from inside through the window... all those little black specks on the right side are black sunflower seeds flying out from the feeder. That woodpecker stayed there for the longest time just flipping and flipping seeds out of the feeder onto the ground. I think the bluejays made a deal with him or something, because they loved it.
It was funny to watch him. He would look at me watching him, wait a second or two, then flip, flip, flip. Look up at me, back to flip, flip, flip.
A downy woodpecker landed on the other feeder and stayed there quite a while, but I couldn't get a nice photo of her. (No red patch on her head, so it was a female.)
Only one sparrow out again, but I got this photo of him when I was sitting outside.