Out back near the dogs' run and the pole barn is one large oak that was part of a twin. One of the twins fell a couple of years ago, causing no damage. Though, years ago, back in 1991 when our house was in construction, we had a big wind storm that summer, and a huge branch of that tree fell off... and on its way to the ground, the branch swept down the side/corner of our pole barn. Did some major damage to the pole barn. And that was just a branch of the tree! A branch the size of a small tree.
The remaining, still-standing twin has become less stable. This is always the case when a pair of twin oaks loses one. This is the third set of huge oak twins where one came down in a storm and Kev has had to take the other one down. All 3 have been near our house, so also near our outbuildings and everything, too. Felling a tree that big is a risky venture, and you gotta know what you're doing. Thankfully, Kev has tons of experience cutting down trees, and he was taught by the master... my Dad. Dad and Kev have felled many a huge tree together.
So this tree has been leaning toward a couple of pine trees we have over there, pines we would like to keep... Kev decided yesterday was the day to take that tree down before it came down on our pines, or worse. We have very few pine trees on our property, and those we have are because we've planted them ourselves.
The wind yesterday was quite strong and blowing to the west, which would be helpful in taking this oak down in the right direction. My job was to keep the 3 dogs out of the way. Betty was easy, she just laid down, poor old girl...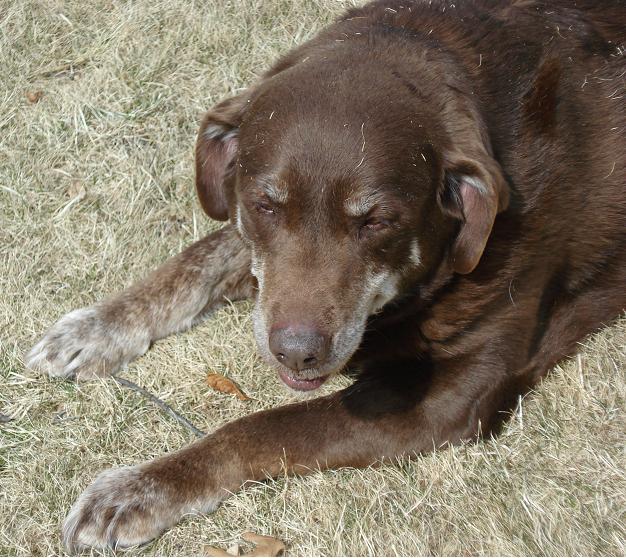 Barney, now totally blind, was a bit more of a challenge. He had found an old tennis ball and was walking around with it possessively in his mouth. I got him to lay down, but he always just starts rolling around on the grass, coz it feels so goooooooood...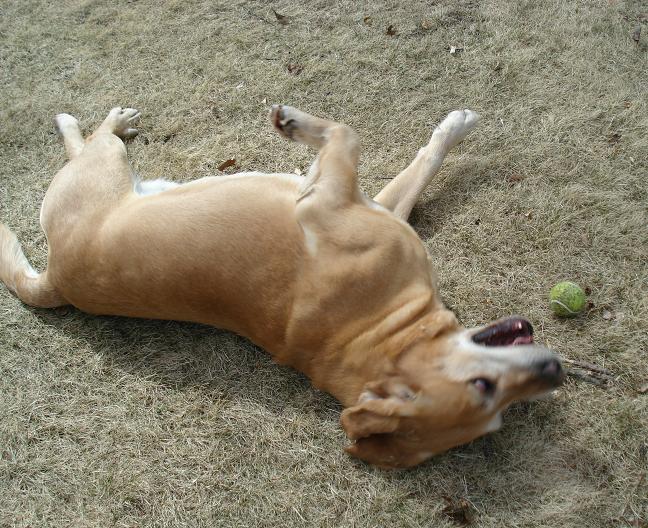 Reilly minded me and sat still. He also kept an eye on Betty and Barney, and when Barney would wander, Reilly desperately wanted to herd him back to me, but I made Reilly stay put...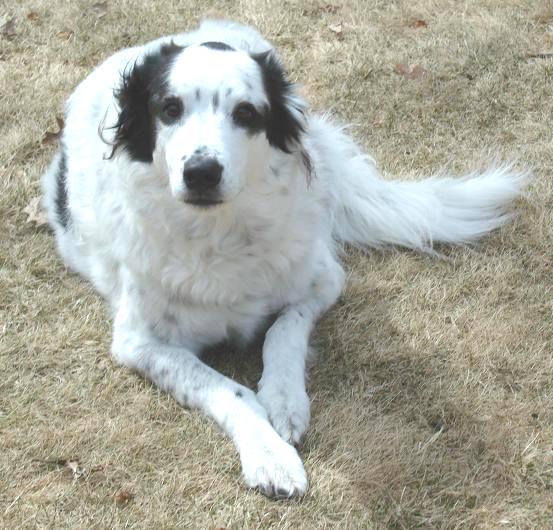 This is Kev beginning to work on the tree. Big tree, huh...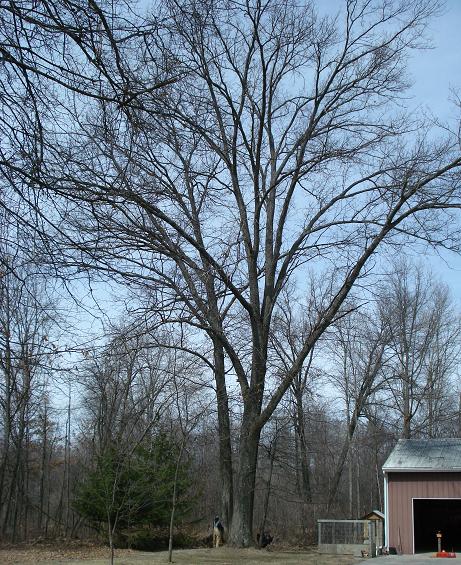 The other big, single oak is staying... at least for now. It's standing tall and straight, well, mostly straight... so far, so good. Though, when a single oak has grown up so near other trees that have come down, it affects that tree. That oak has been used to the other 2 big trees all its life. With those twins gone, the single tree will have to adjust, such as how the wind and sun change against it, the roots at the bottom. That single tree should be fine, but through the years ahead, the twins being gone may adversely affect its life expectancy.
Kev starts on the tree by making a cut on the side he wants the tree to fall toward, first one cut...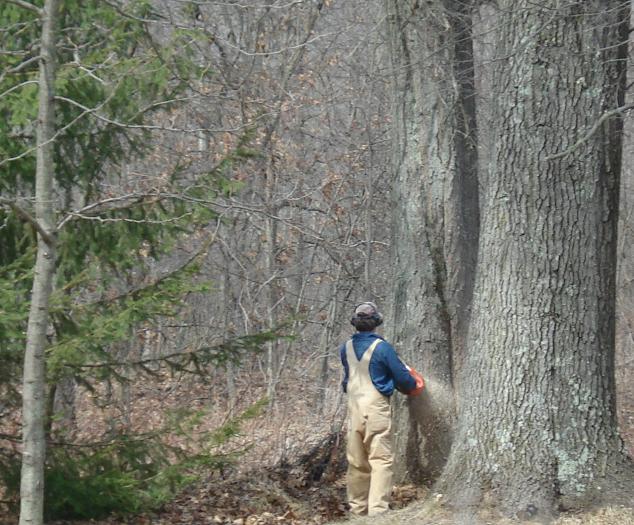 Then another cut...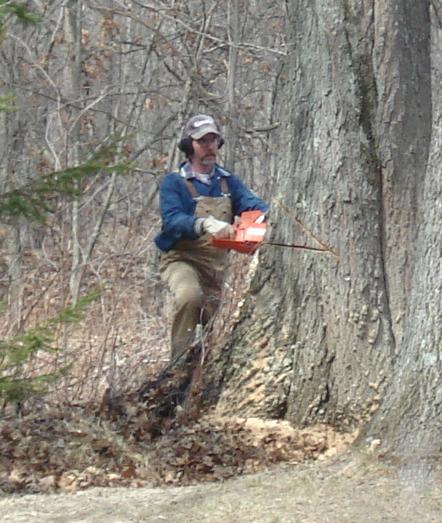 Cutting a wedge out of the tree, making the weak spot to convince the tree to fall that way, hopefully avoiding the nearby pine trees as much as possible...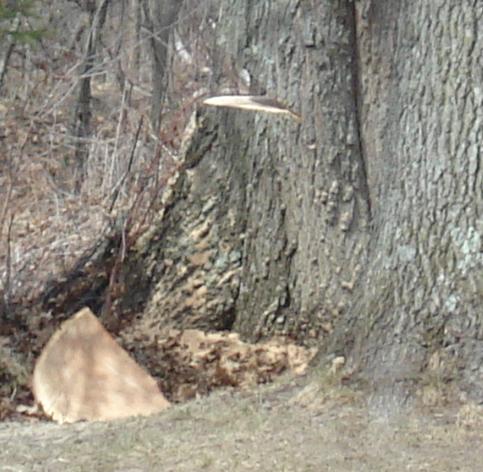 Here's the video I took of the tree falling. Not very good videography skills; I'm not used to Joycie's little Sony at all yet. There is also a lot of wind noise in the video... it was a windy day! And there's a loud shout by me when I screamed for Barney because I thought Kev was telling me he was in danger. Scared the crap outta me! Poor old blind Barney.
Kev got the tree down keeping the pine tree intact... whoo hoo, Kev! That's my man!!!
It was pretty exciting. Scary, too. Big tree. Kev is 6' tall, so this photo gives you an idea of how much work he has ahead of him getting the tree cut, split and stacked and the stumps taken care of...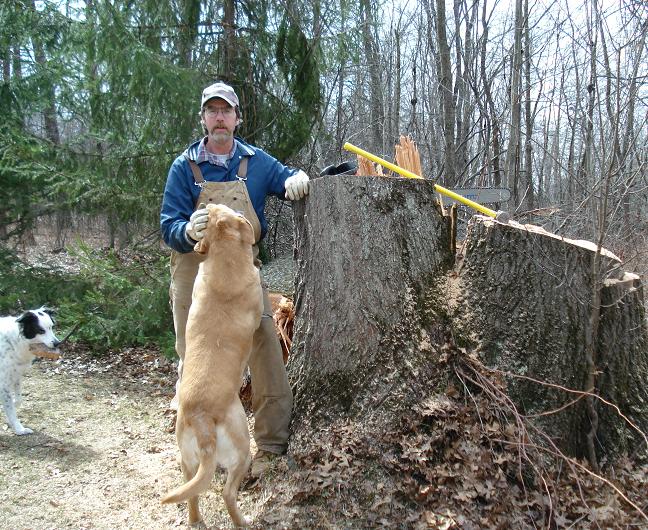 Of course, the first thing Barney did was find one of the wedges Kev used and had it in his mouth, which made Reilly instantly want it.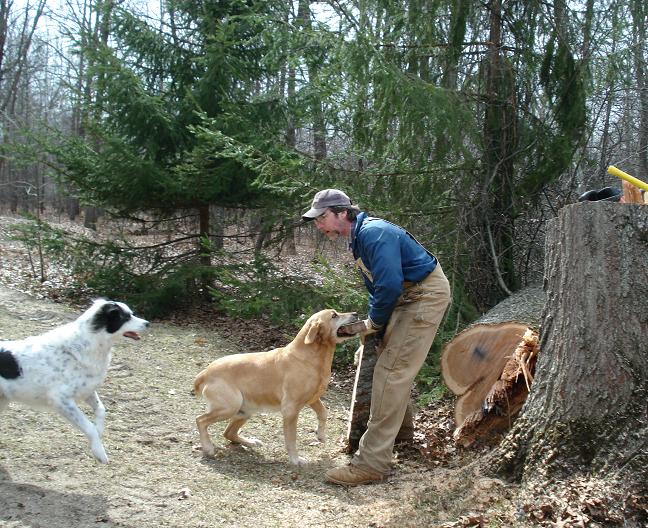 Kev got Barney to drop the little wedge and tried to get him to carry around the big wedge... eh, made us laugh anyway!... poor old blind Barney, guess we shouldn't be making fun of him...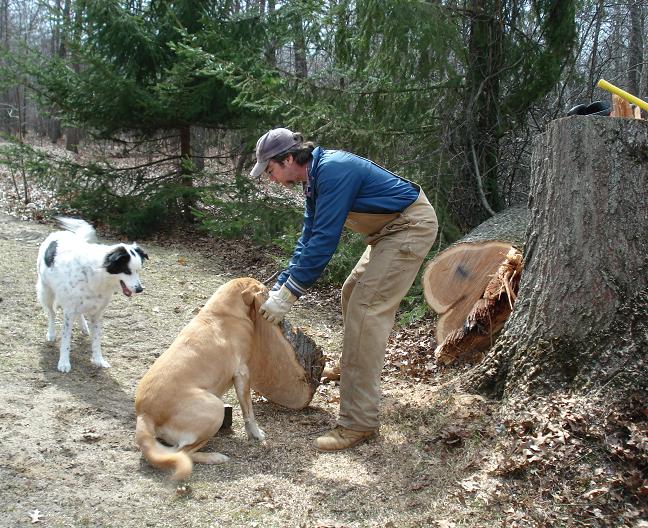 Barney is such a huge dog, though. Guess we thought that wedge was more his style. Reilly only cared that it gave him the opportunity to get what Barney had...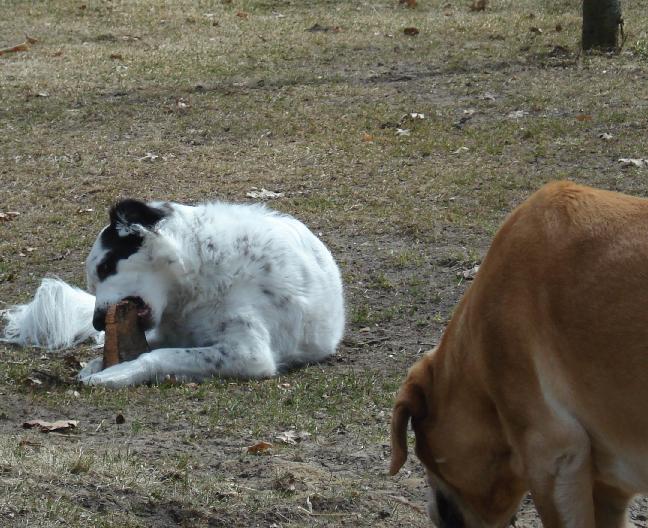 I also took a sweet photo of N.C. also... can't you just feel that stretch?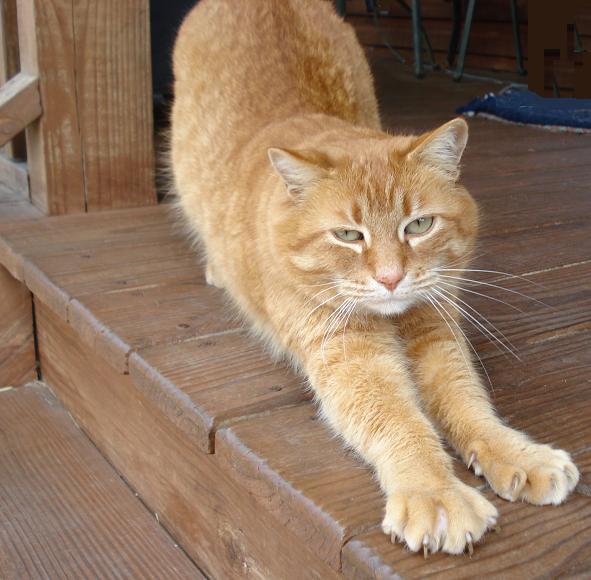 And then later, Joycie and Mike got home, with groceries! Joycie started cooking right away. She cooked for about an hour, and the house smelled so wonderful. Usually Mike helps her cook because they like to do that together, but he had homework to work on. Joyce made taco beef, homemade tortillas, fried up some homemade tortilla chips and made a big bowl of guacamole. Oh. My. Heck! That was some good Mexican food. Izzy, Mike's momma, has done a great job teaching our Joycie how to cook the good stuff! It was so delicious.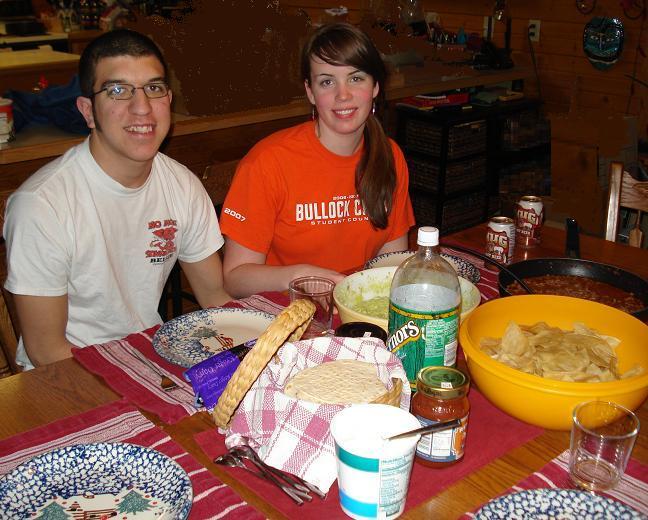 You can see our beautiful girl had been slaving over the hot stove... looks at those pretty red cheeks! The four of us had a nice dinner together. Sammy wasn't home; he was at a friend's house. As usual... our little social butterfly, that boy.
And now, just for kicks, here's a crazy photo I made of our crazy old, blind Barney...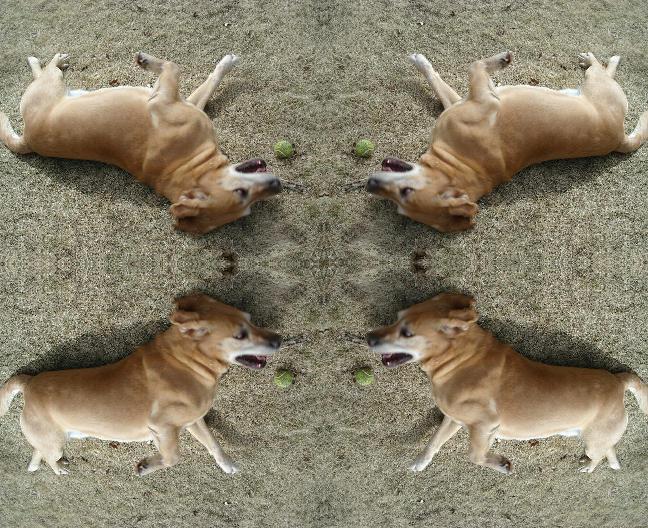 Freaky, eh.