We definitely had a white Christmas, like most North Americans... or most of us notherners anyway. Woke up to a thunder storm this morning, and it is still raining. It's slowly pounding the snow away, but we have so much snow, you can't tell just yet. The fog is pretty amazing, and these 2 photos definitely don't do it justice...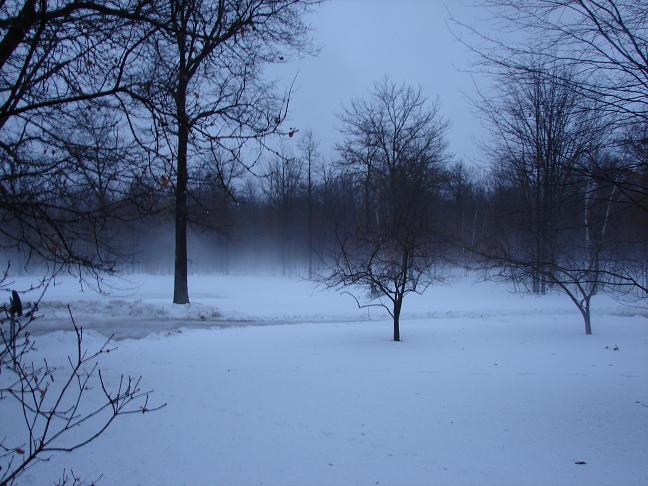 This kind of thick, floating fog always makes me think of Edgar Allen Poe, Sherlock Holmes and the like. Only it's daytime. Weird. And not very Christmas-like... And the flooding that's expected in our area is not good. Kev will be keeping an eye on our sump pump and the creek level.
Our Christmas was nice, but also very disappointing. Sammy and I both being sick (me with an awful flu since Monday evening), plus my brother, Jim, sister-in-law, Sue & nephew, James all being sick, plus my sister, Kathy, and now her hubby, my brother-in-law, Bob... we decided to postpone the family Christmas gathering. Too many sickos, and too many different illnesses to share with each other. That'd be dreadful. Without dinner at Kathy & Bob's, turkey and Swedish meatballs, everyone together, then over here at our house to open gifts for the kids and our Chinese Auction with all the adults... geewhiz, I miss it!!! Last I heard, we're hoping for a Saturday in mid-February. Christmas is in the heart and all about family, so does it really matter when it happens? No. But... *
sigh
* I'm just happy we're all here to have that turkey and traditional meatballs then. Meanwhile, my sister, Janet, and brother-in-law, Bob, are having all the families over to their house today so we can have Christmas with Rogan, my great-nephew, and Austin, soon to be great-nephew-in-law. Sammy's still coughing a little, but he and I are both doing much better, so we will likely attend. Kathy and Bob are still super sick, so they won't be going, and last I heard, Jim, Sue & James aren't up to coming either. But at least we will have most of us together for a little while. If Sammy's cough is still happening pretty often, I threatened to make him wear a mask, those paper ones that Kev has out in his workshop for like doing drywall and stuff. Sam thinks I'm kidding.
I was very thankful, though, that both Sammy and I actually felt like getting out of bed Christmas morning. Early, too. Very early... 6am I think. The four of us had a nice, quiet and relaxing time opening our gifts. With a lot of laughter. For some reason this year, Reilly finally decided to show an interest in opening presents. Makes sense, since this is the first year none of us got him a gift, wrapped it and tried to get him to open it. Duh. Reilly tried helping with most of the gift opening, and it was very fun.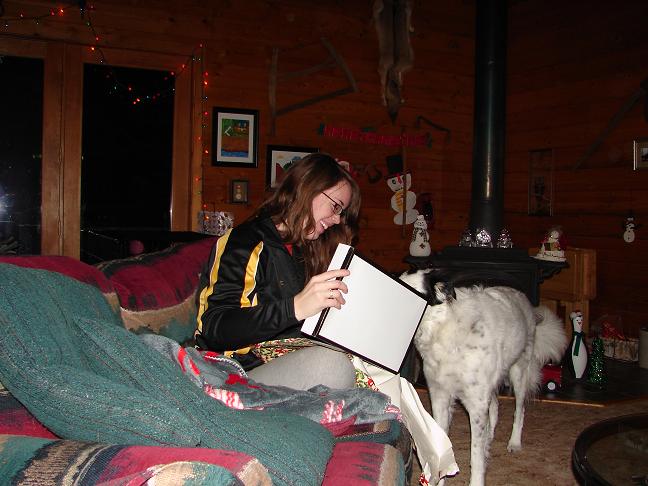 Sammy was oh so unsurprised with his XBox thing. That was The One Thing he really wanted for Christmas, and while he and I were shopping for his dad and sister, we hit Best Buy, and there it was. They had a few different ones for sale, and Sammy was telling me to remember to get This One. I said oh hell, Sam, just pick it up. So he carried it up to the checkout and then out to the trunk of my car for me. That box is actually quite heavy. And like it would be a surprise anyway.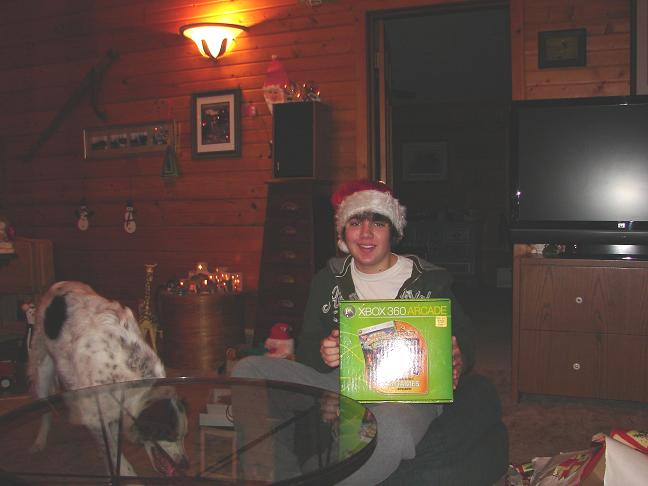 But I totally wrapped it, though I see I didn't bother to remove the price tag... anyway, now he's been downstairs with it practically every waking minute since.
Joycie got both Kev and I some thoughtful gifts. Kev was happy with the beer making kit, something he's wanted to try.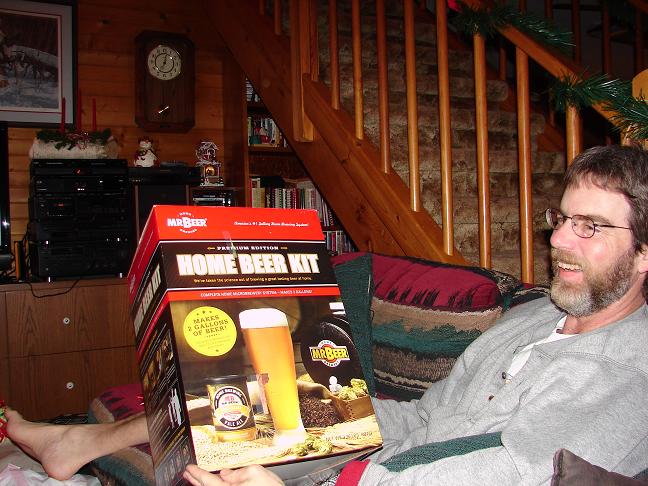 And I was happy with the wonderful lavender booties and neck cozy... they have inserts you can warm up in the microwave, and they feel and smell wonderful.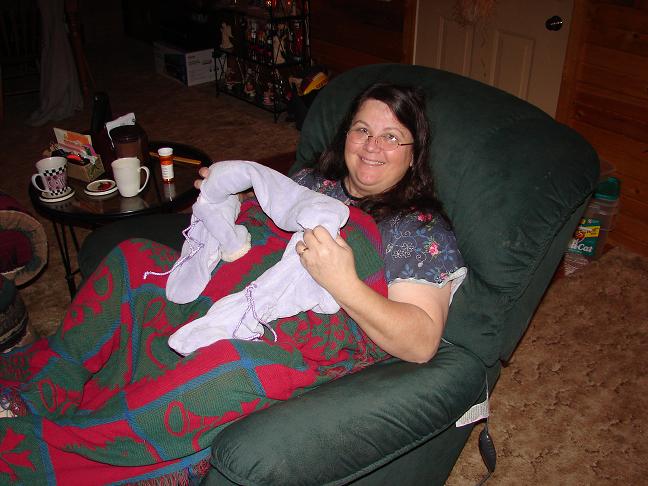 Sammy knew what he wanted to get for Joycie a while ago, because she has a favorite pair of shoes that are pretty much worn out, and he got her 2 pair similar at American Eagle. Had to be AE. I was skeptical that she'd like them, but Sam was right on... she loved both of 'em...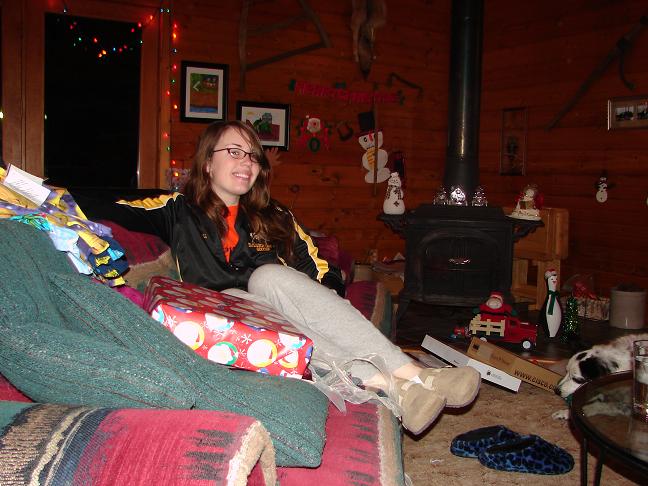 Sammy does have a good eye for style. Wearing clothes that are in fashion is important to him and to nearly all his friends, both guys and girls. Big Time. Since I had told him that the XBox was ALL he was getting from us this Christmas, since it was so expensive, he was super surprised and happy with more gifts to open. Reilly helping him on this one was funny, because it was the one gift that I did that was a wrapped box inside a wrapped box inside a wrapped box...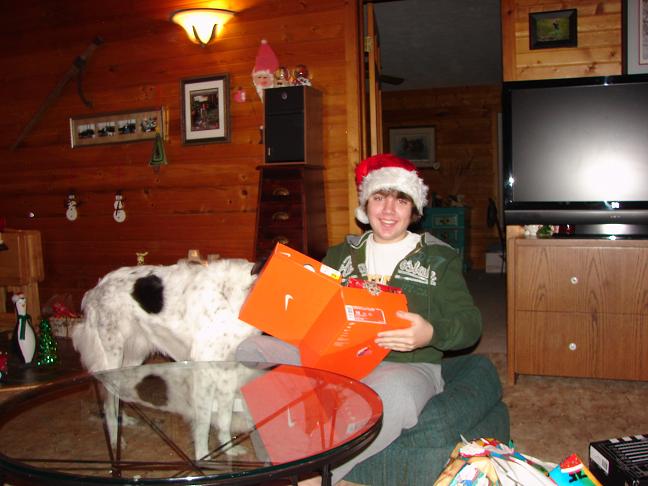 And when Sammy saw the Hollister t-shirt, he was very pleased...
This year, due to - SURPRISE! - financial woes, Kev and I
promised
each other we would not buy any gifts for each other. Our gift to each other was not spending more money on Christmas. But, of course... Kev pulled a fast one and "Santa" got us Kona coffee and some new mugs...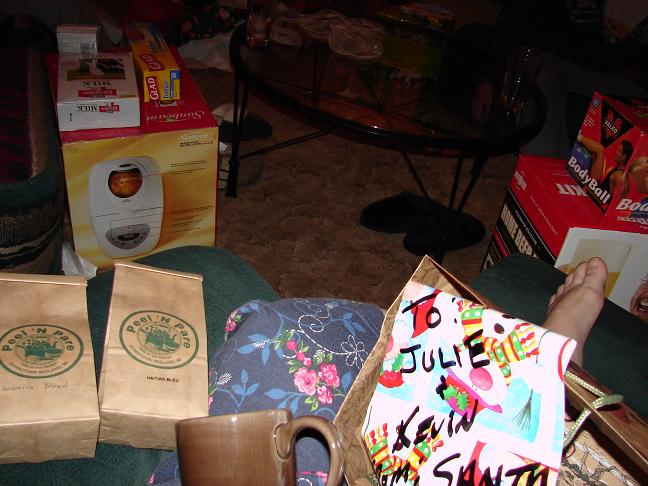 It was nice, because every year, Kev gets me coffee from this place downtown, and it just wouldn't be Christmas without opening that gift and smelling that wonderful coffee smell.
So Kev made a fresh pot of coffee and washed 2 of our new mugs and the 4 of us watched "Mamma Mia" together. Sammy got me that DVD, and Wall-E DVD, plus a wonderful
"WoodWick" candle
, which is really cool. I had went to see Mamma Mia with Kathy, and loved it, but Kev, Joycie and Sammy hadn't seen it yet. None of the 3 of them were too enthusiastic about the prospect, but they all enjoyed it. A lot. Ha! I think I smiled all the way through it. Can't wait to watch it again.
Later, Reilly did get his Christmas gift from Joycie... a lovely massage. She brushed the hairy beast and vacuumed him, and he loved it. So did Kevin. (Reilly's been shedding a lot lately.)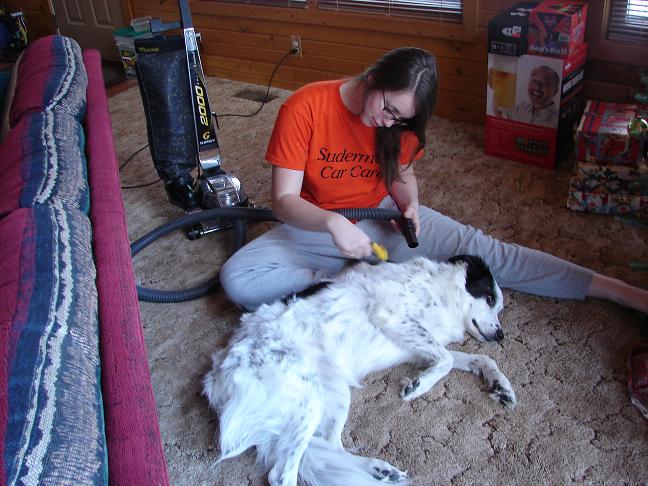 Then later, Mikey arrived. I had gotten a gift for the both of them, so they opened it together...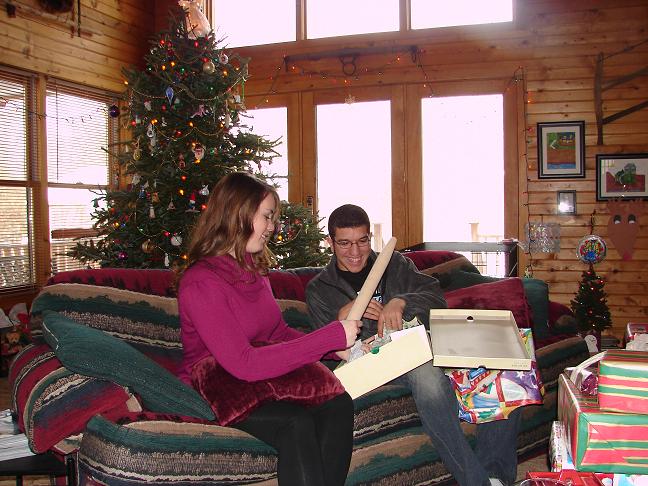 The rolling pin in Joycie's hand in this photo made me laugh... Anyway, now they're set up just fine to make homemade tortillas. A gift for all of us!
Mike modeled his UnderArmor shirt, which made him very happy...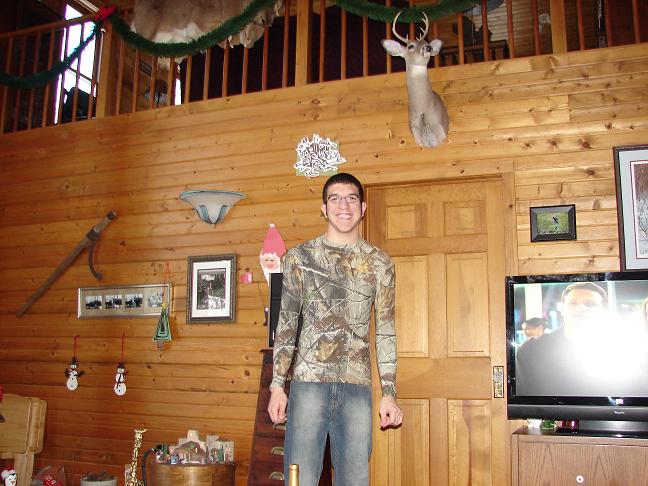 We just love that boy. Since he is going to college full-time and has no job, and still has to feed gas into his truck, our Mikey was wise enough not to try and give us Christmas gifts. He gave us a short letter he wrote, addressed to "Dear inlaws" which was so sweet, yes of course, it made me cry... he explained he couldn't buy us anything, but he appreciated us and what we did for him, like letting him stay every weekend and hunt here on our property like it's his own, and how he can't wait to call us in-laws officially. It was better than anything he could possibly have bought for us.
Joycie and Mike left to go to a family gathering of Mike's and I took a nap. I was able to talk with many family members and to Sandy, which was very nice. Sandy and I haven't talked in a while, so we had a nice, long conversation. This was their first Christmas in
their new house
, and they had a nice, quiet Christmas morning, too, just the 3 of them, Sandy, Brian and Brandon.
Sandy and I both observed how odd it felt not to be rushing around on Christmas day. Kinda nice, actually. With the kids growing older and moving and starting families of their own, Christmas traditions must change... makes me sad and happy at the same time. Anyway, Christmas is only 1 day of the year. Our family is close, really close, so we are lucky. Maybe not as much face time as we'd like, but phone calls work. I could feel Sandy's hug through the phone yesterday. We're so very, very lucky... we get lots of family time throughout all the year, not just around holidays. To quote a favorite movie of mine (notice it playing on the TV in the photo of Mike modeling his new shirt), "Love actually is all around."
Merry Christmas everyone!