This morning when Sam woke, he called me at work... and the only way I knew it was him was because his cell phone number showed on my phone. His voice was awful, and he could hardly talk. He's sick with some kind of upper respiratory infection (remember when we used to call those things colds?....). So Joycie & Mike drove him into town for me, and I met them at the Urgent Care medical office. Got my poor, sick boy a prescription, and he will hopefully be feeling much better by Thursday.
Once again, waiting and waiting in an uncomfortable chair in a medical building for my boy... Urgent Care was very busy, and we waited over 2 hours total. Our family doctor doesn't work on Mondays, and the doc on call was too booked to fit us in, same old story... and that's why we usually end up at Urgent Care.
Today reminded me of all Sammy went through with his elbow around his birthday. Looking back...
After the injury, Sammy's 14th birthday party, with a sling and a smile...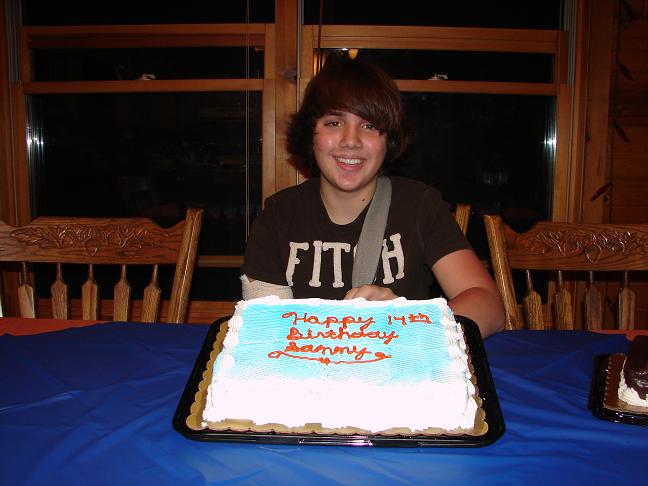 The day after his birthday, on Nov. 5th, Sammy had surgery. The surgery went well, but it was a long wait... the surgeon was running a few hours behind because of complications at the out-patient surgical rooms. Sammy had trouble in recovery, though, and so that took even longer. Here he is finally back in his room, but so very not happy... and who would be...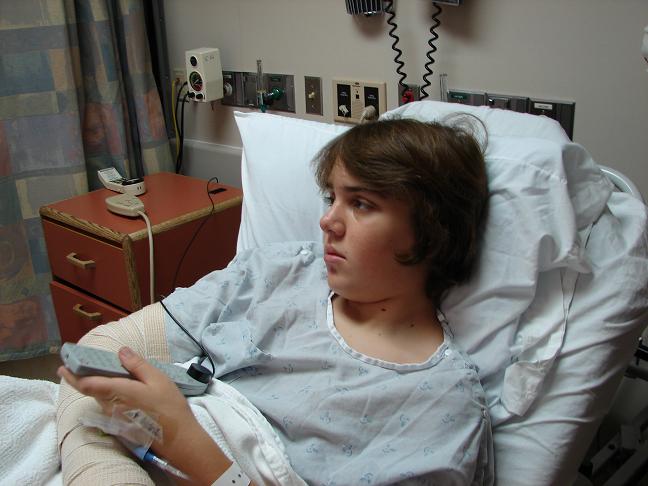 He was in so much pain then. And in the days following. Totally talked me into helping him buy his new iPod... with his birthday money, he was still short about a hundred bucks...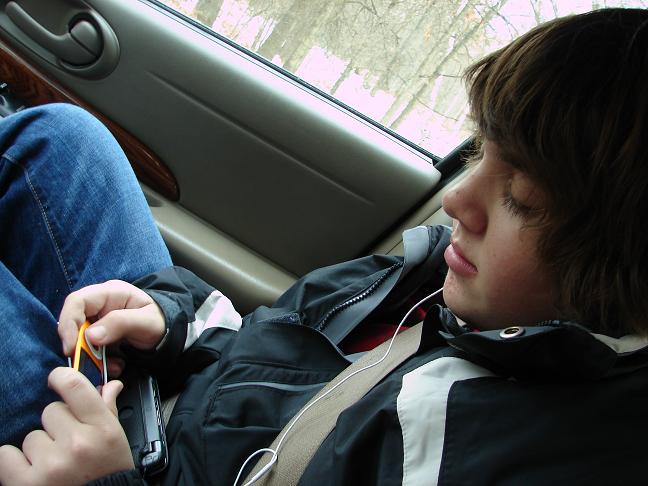 I'm not really sure how this one is so different from the first 2 he has, except it's a really, really pretty orange! What can I say, I'm a sucker for Sammy's big, gorgeous eyes, especially when he's hurting. (And he knows this, too.)
And then a few weeks later, waiting in the surgeon's offices for the splint to come off from Sammy's arm...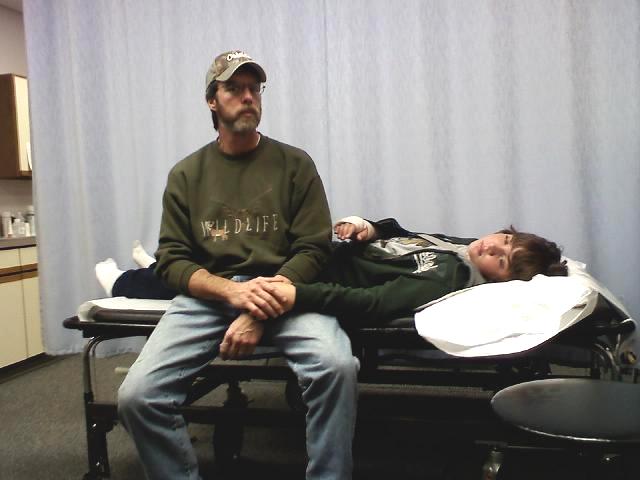 Again, waiting and waiting... But we finally got to see the goods...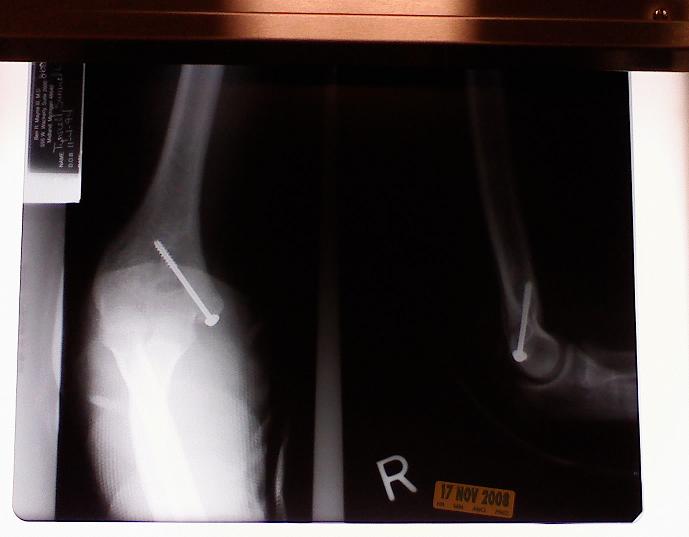 The screw is still in his elbow (humerus bone), and we will leave it there for now. At least through basketball season... the surgeon said maybe we could have it removed this next summer. It's fine to stay in there a while.
The nurse took out the stitches and put some kind of glue on his healing incision, and then put tape over it... though the tape didn't last that long...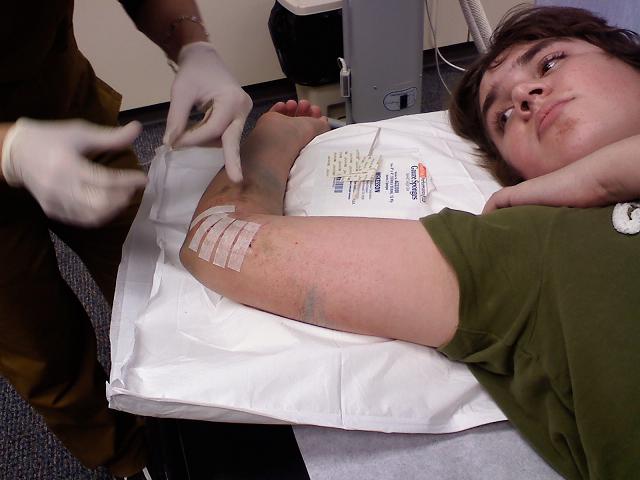 Here's a graphic, close-up photo of the incision and all the bruising... though some of the blue, nearer his wrist, is some kind of cleaning thing they use now at the hospital (like the stuff that used to turn your skin orange)...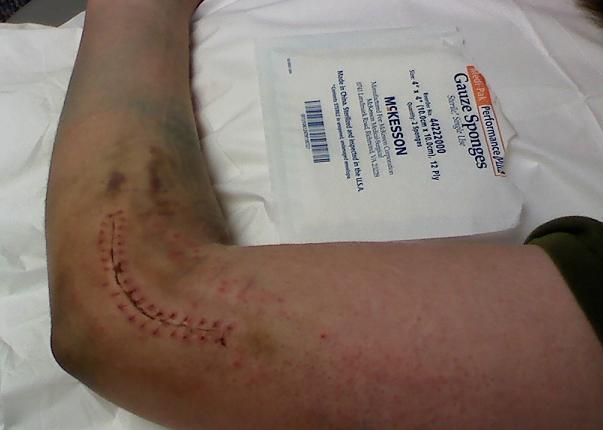 Pretty gross, huh. But also some very lovely shades of purple... and green and yellow...
That there arm has cost us a bundle so far... Thank the Good Lord for medical insurance... I don't know how folks without it survive. Our share of the hospital bill has been $620 so far, and $98 at the surgeon's office, and we're still waiting for the bills from the anesthesiologist group and the x-ray group (those are billed separately from the hospital). Oy! (Actually, I think those bills have arrived, but I'm ignoring them until after Christmas!)
Sam's been through physical therapy and is doing great now. (Oh, PT, another $150!) Playing basketball and shooting the ball and everything. He has a lot of catching up to do with his arm, but he's one strong boy. Well, not today... today he's one sick puppy...