Many years ago, I bought Kevin a big, comfy recliner for a Father's Day present from me and the kiddos. This recliner is definitely meant for a large, tall person. I tried to sit in it the evening I got home from the hospital, but my head hit a spot on the chair that made my head tilt forward slightly... which was too much for my aching neck. The next morning, I got the idea of putting a cushion on the chair and sitting on it.
Voilà!
Comfort achieved. The cushy back parts hit my head, neck and shoulders right where they ought. Ahhh!!! I found I could sit in this recliner and take off the uncomfortable collar, because the back of the recliner provides plenty of support for my neck. I have also found that it's really the only comfortable place for me to sit in this entire house. Here is a photo of the recliner where I will be spending many a day incarcerated, er, I mean recuperating...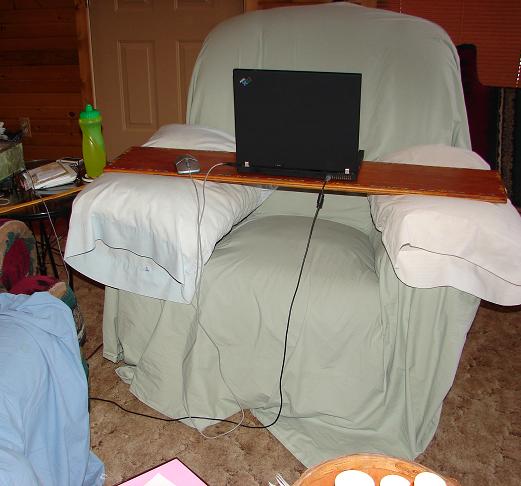 Incarceration... Recuperation... it's a blurred line, I tells ya...
Anyway, the chair's upholstery is a dark green microfiber faux suede, which was a new thing for La-Z-Boy at the time. I would never recommend this fabric to anyone for any furniture; it's not what I would call durable; this recliner began stressing at the seams almost immediately, eventually ripping in a couple of small places. Also, this fabric doesn't seem to breathe, so when you sit in this chair for any length of time, such as the duration of a movie, your ass and back get good and warm… too warm for my taste. Which probably explains why Kev rarely stays awake through any movie... between being tired after a long day, and comfortably settled in a chair that gets increasingly warm, it's like a sedative.
I have thrown a cotton sheet over it, and that helps make it more comfortable for me. A bed pillow on each arm so that my shorter arms are comfortable, and I'm good to go. Or stay, as the case may be. For hours. And hours. Interrupted by occasional short walks and little exercises I've been assigned to do by Dr. Adams.
I also use a board that is my "portable desk" across the arms of the chair, which is handy to hold my laptop. (My laptop is my work computer, and I finally began retrieving my e-mails from work this week... the first time took over an hour... ugh. Thankfully most of the e-mails are the type I can simply delete. Yay. I'm not really ready to get back into work yet, though I do plan to be working from home soon... just gotta get past the pain-pills-needed phase, and I'm getting there; been slowing down on them all this week.)
Let me tell you the story of my portable desk. Back when Kev and I had been married for only a few years, we purchased the property where we now live from my sister, JoAnne. We built a pole barn and finished half of it off into living quarters. We lived in that pole barn for 6 years before we had our house built. When we were first living in the pole barn, we had no telephone yet and no electricity. Electricity came very soon after, but for a while, life was pretty rustic. Also, Kevin was working a ton of overtime on his job, so I spent many, many a lonely dark evening in our new home/pole barn. No electricity, no TV. I did a lot of reading, and then I started playing around with leftover pieces of lumber from building our pole barn. Now that was fun. I made some silly, funky things. I remember making something I guess one could call a magazine rack. Yeah, it was basically a piece of crap, decorated with about a zillion nails. I had fun, what can I say? You know, I think it's still out in that pole barn somewhere...
My Dad built our kitchen cupboards for us in the pole barn, and we still have them. They're beautiful. He used fir plywood, and the grain of that wood is wild and gorgeous. Fit the pole barn well. Now, only the bottom set of cupboards, with the formica top, sink, drawers and shelves with doors remain in the pole barn. The top cupboards (shelves and doors) we moved downstairs in our house in what is currently my craft room.
I used a leftover piece of that fir plywood for my portable desk. I cut it to the size I wanted on Kev's table saw and sanded it well. I then painted a design around the outside edge, heavily influenced, I am sure, by issues of the magazine, "Country Living." I then put 2 coats of varnish on it.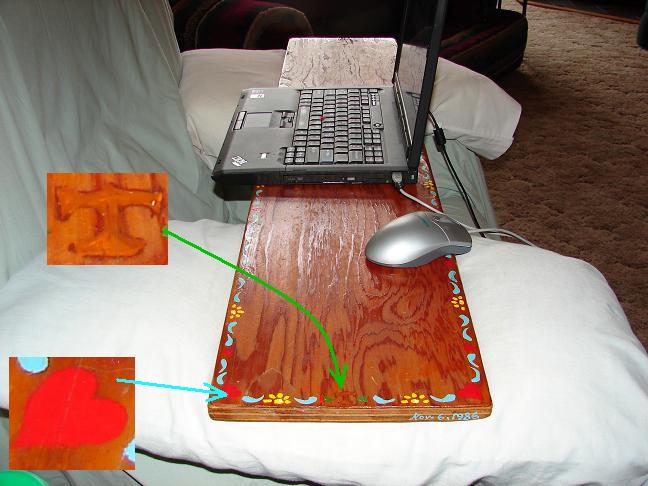 Note the date I painted on the edge... Nov. 6, 1986.
I can't tell you the number of times this portable desk of mine has come in handy. And whenever I use it, I'm reminded of our days living in the pole barn. Good memories.